Apple Watch Series 8, Watch SE and Watch Ultra : Apple Event September 2022
---
On 7th September 2022, we witnessed the Apple event which was focused on Apple Watch, iPhone, and AirPods Pro. There were many rumors about what to be expected from this September Apple event, but it is always exciting to hear from Official Apple guys about their products. So without further delay, let's get started.
Apple Watch
Apple Watch is the most used SmartWatch worldwide. It's the Number One selling SmartWatch in the world & is holding this title since 2014, till date. Each year Apple Watch sets a new standard for what a SmartWatch should be, and this year is no exception. At the Apple Event in September 2022, Apple released three Smart Watches for the first time,
Apple Watch Series 8
Apple Watch SE 2nd Gen
Apple Watch Ultra
Apple Watch Series 8 and Apple Watch SE 2nd Gen are upgraded versions of their previous generations with new features and enhancements. But the Apple Watch Ultra is one of its kind, taking Smart Watch to the next level. Let's check it out in more detail.
Apple Watch Series 8
Apple Watch Series 8 features a big, brilliant Always On display. Narrow borders push the screen right to the edge, resulting in an elegant integration with the curvature of the case. It is available in 45 mm or 41 mm case size with an edge-to-edge display offering up to 1000 nits of brightness.

The bright Always On screen makes detailed watch faces look stunning and easy to read, even when your wrist is down. The large display accommodates all your favorite complications and makes tapping, typing, and swiping a snap.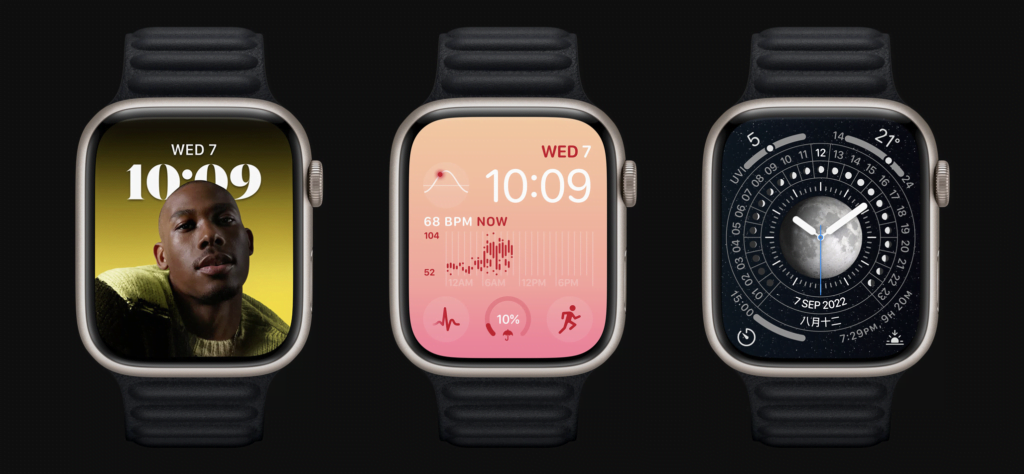 The same innovations used to create the beautiful, edge-to-edge, Always On display also help make it incredibly durable. A thick front crystal, robust geometry, and flat base make it resistant to cracking. It is IP6X certified for dust resistance and Swimproof with WR50 water resistance.
The more informed you are about your health, the more empowered you are to affect it. Advanced health sensors in Apple Watch Series 8 provide insights to help you better understand your health. And now with its all-new temperature sensor, it takes a new leap in monitoring Woman's health. Apple Watch Series 8 has an innovative new sensor that tracks your temperature while you sleep, so you can see changes over time. Cycle Tracking uses this data to provide a retrospective estimate of when you likely ovulated, which can be helpful for family planning. When combined with your heart rate and logged cycle data, you'll get a detailed view of your menstrual cycle.
Your Cycle Tracking data stays on your device and is encrypted when your phone is locked with a passcode, Touch ID, or Face ID.
Apart from this, it continues to have all the great features like ECG, Blood Oxygen Level, Sleep Tracking, Heart Rate Monitor, Fall detection, etc. from its previous generation. And now with the Low power mode, you can get up to 36 hours of battery life from your Apple Watch. This low power mode keeps all vital features like fall detection etc. on while limiting some background activities, like always On Display, to give it that extra battery life.
In addition, this year Apple has introduced a great new feature, Crash Detection.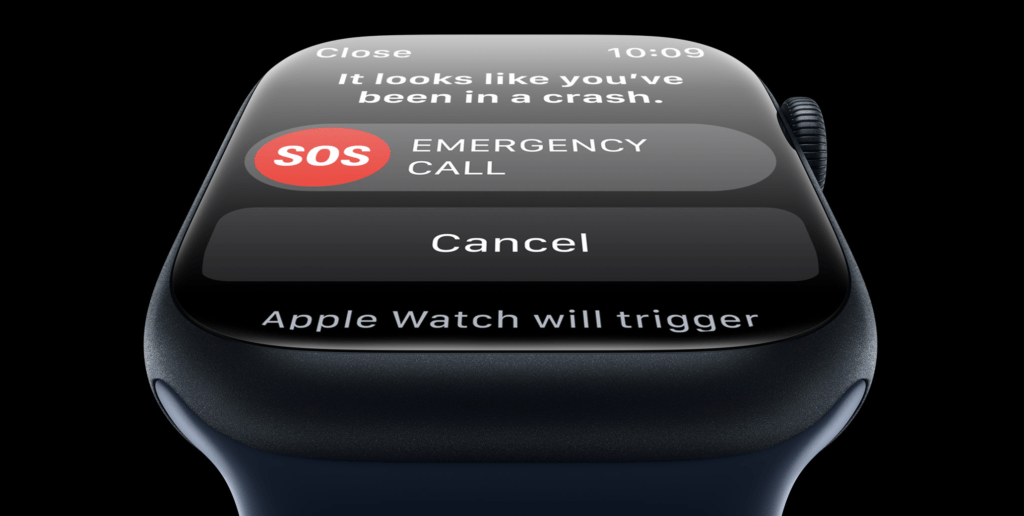 For the first time, Apple Watch Series 8 is able to detect if you're in a severe car crash. When a crash is detected, Crash Detection can automatically connect you with emergency services and notify your emergency contacts. Crash Detection uses the combined power of an improved 3-axis gyroscope and a new g-force accelerometer that has the highest dynamic range in any smartwatch. It also uses a microphone, barometer, GPS, and an advanced sensor-fusion algorithm trained on over 1 million hours of real-world driving and crash data to detect if you're in a severe crash. High g-force accelerometer detects up to 256 Gs of impact. As per Apple, this all-new Crash Detection feature is developed from over 1 million hours of real-world crash and driving data.
Apple Watch Series 8 is available in,
Midnight
Starlight
Gold
Graphite
Silver
(PRODUCT) RED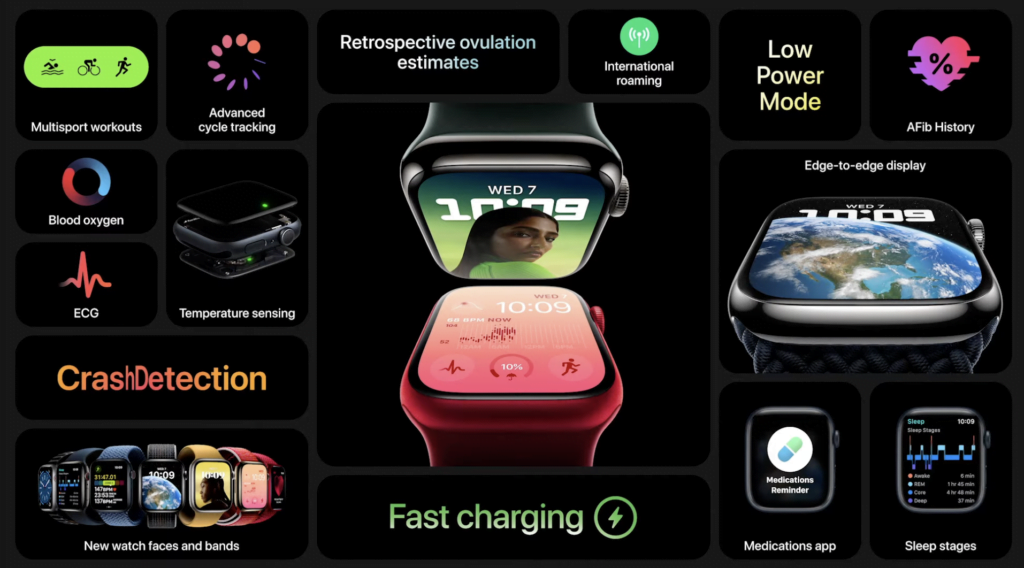 Pricing
Apple Watch Series 8 is available in multiple options, and thus with multiple Pricing options as well. All watches will be available starting 16th September 2022.
The Aluminium Case with Sports Band variant is available at ₹45,900/-.
The Stainless Steel Case with Sport Band Variant is available at ₹74,900/-.
The Stainless Steel Case with Milanese Loop Variant is available at ₹79,900/-.
Apple Watch SE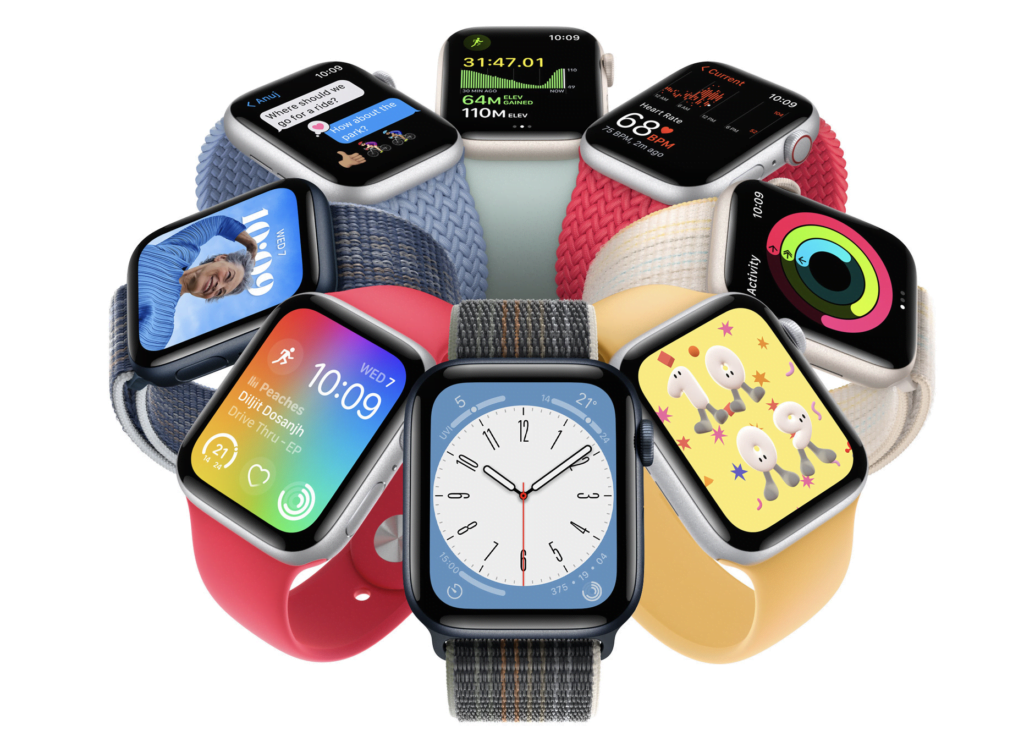 Apple Watch SE is the first Apple Watch for more than 80% of its customers. It is an affordable option for people who wants to enter into the Apple ecosystem and also use key features of the Apple Watch. SE is a fantastic way to get started with Apple Watch and this year it's even better.
All new The 2nd generation Apple Watch SE will be available in Silver, Midnight, and Starlight, all in 100% recycled Aluminium. The back case is made up of Nylon Composite material, which matches the three case finishes. It continues to deliver core benefits of the Apple Watch like workout and activity tracking, it's Swimproof, has high low heart rate notification, emergency SOS, and fall detection. SE also includes the same crash detection feature with the help of the same motion sensors which are available in Apple Watch Series 8. The SE display is 30% larger than the Apple Watch Series 3 & it is 20% faster than the previous Apple Watch SE. With a family setup option, it's perfect for Kids, with parental control.
Pricing
The 2nd generation Apple Watch SE with Aluminium Case with Sport Band is available at a Price of ₹29,900/-. You can order it now and it will be available from 16th September 2022.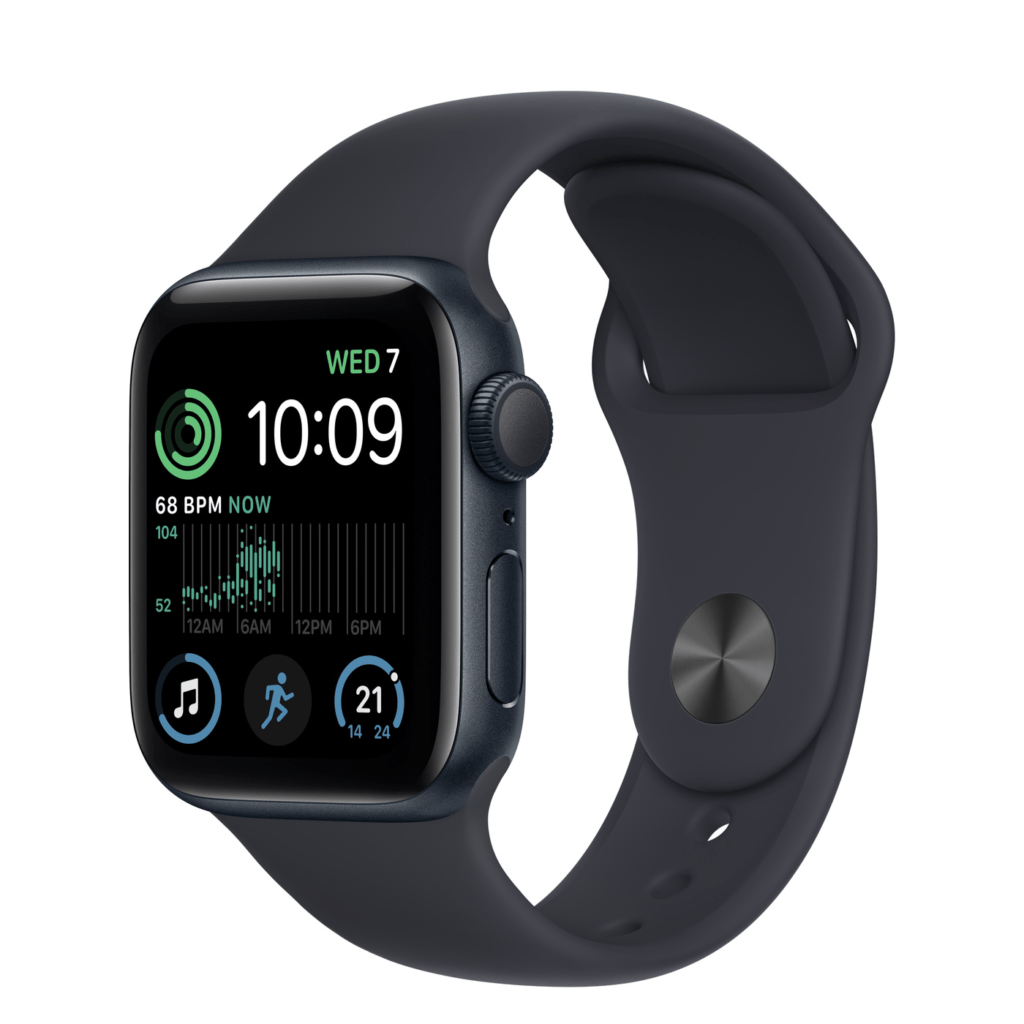 ---
Must Read

Critical Security Update for Macs and iPhones
---
Apple Watch Ultra
The Apple Watch Ultra is the ultimate watch from Apple which pushes all the boundaries. It is the most rugged and capable Apple Watch ever. With a robust titanium case, precision dual-frequency GPS, up to 36 hours of battery life, the freedom of cellular, and three specialized straps made for athletes and adventurers of all kinds.
The build of the Apple Watch Ultra is on the next level. Titanium strikes the perfect balance between weight, ruggedness, and corrosion resistance. The new 49mm case design rises up to surround the flat sapphire crystal and protect it from edge impacts. The Digital Crown is larger and the side button is raised from the case, making them easier to use while you're wearing gloves. It is Water resistance up-to100m, Tested to MIL-STD 810H, and has IP6X dust resistance. It offers a big display with up to 2000 nits of brightness.
Specifically for Apple Watch Ultra, the Wayfinder face features a time dial that can be switched to a live compass and has room for eight complications. In low-light situations, you can rotate the Digital Crown to activate Night Mode and see the watch face turn a vivid red.
The new Action button gives you quick, physical control over a variety of functions. It's customizable and can do things like control a workout, mark a Compass Waypoint, or begin a dive. Just like you, it's full of potential.
It is packed with next-level hardware for that ultimate performance and incredible capability.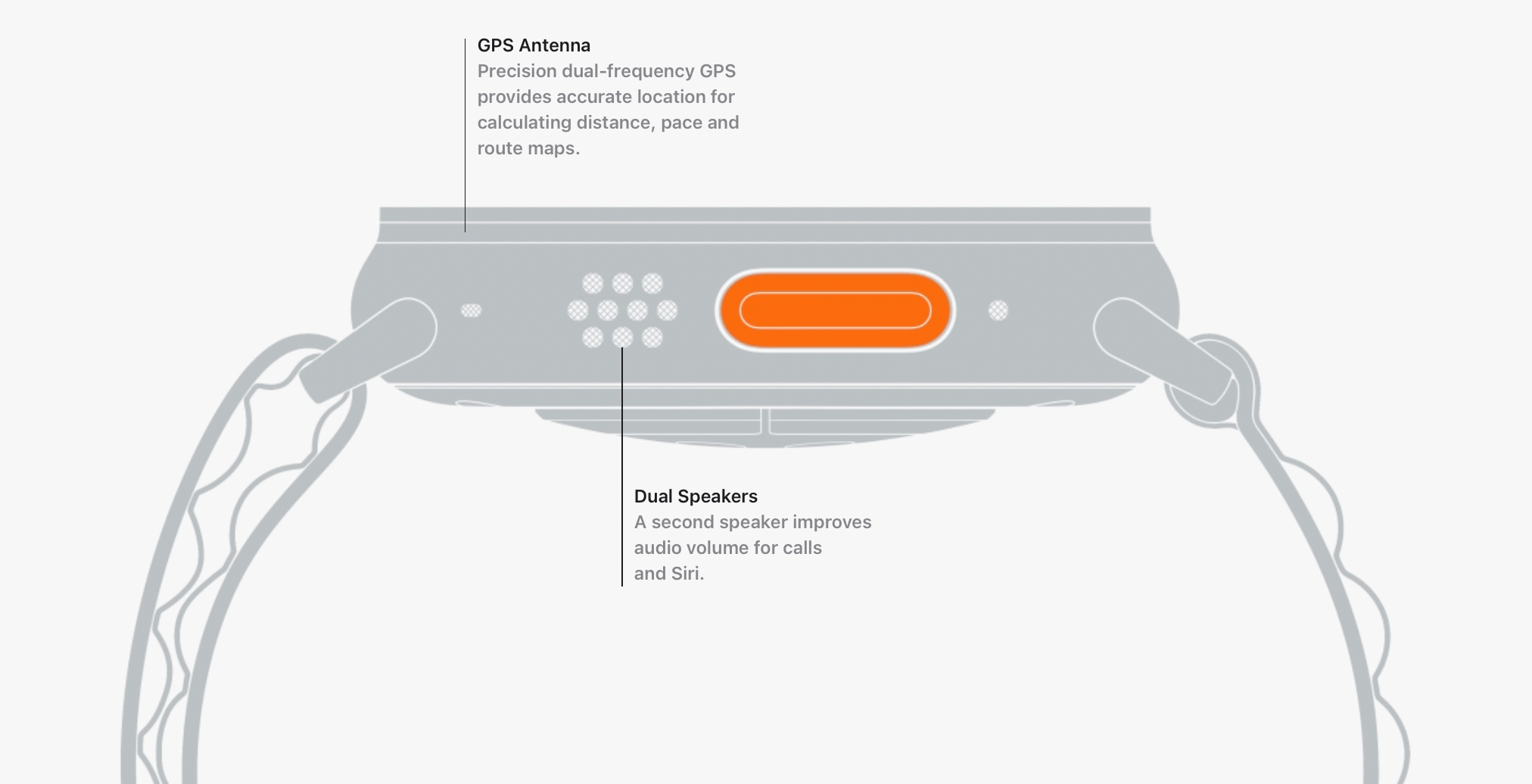 Apple Watch Ultra offers 36 hours of normal battery life and up to 60 hours of battery life with Low Power mode. It also comes with a dedicated set of straps to suit your need, i.e. specialised straps for outdoor adventures, endurance training, and water sports are as meticulously crafted as the watch itself.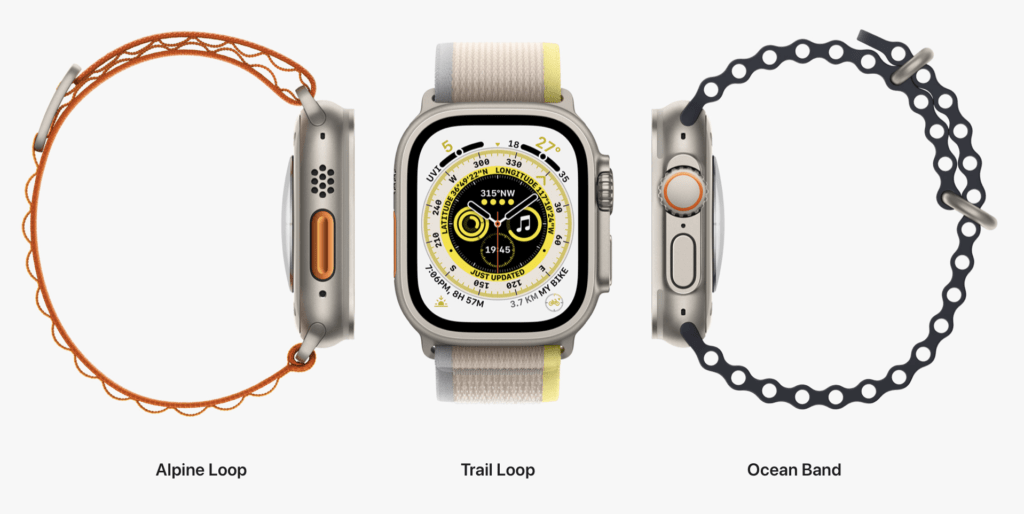 Watch Ultra comes with 86-decibel Siren. If you get lost or injured and need to attract attention, hold the Action button to activate a siren that can be heard up to 600 feet or 180 meters away. It operates on a temperature range of -20 degrees to 55 degrees Celcius. Apple Watch Ultra features a new depth gauge. It also delivers the data and functionality required by scuba and free divers for descents down to 40 meters. It is EN13319 certified watch i.e. an internationally recognized standard for diving accessories. Using a new depth gauge, the Depth app is ideal for snorkelling or any casual underwater activity. See the time, current depth, water temperature, duration under water, and maximum depth you've reached. It can even activate automatically when you submerge.
Apart from these features, it has all regular Apple Watch Series 8 features like temperature sensing, Sleep Tracking, ECG, Heart health notification, Blood Oxygen, Fall detection, Crash Detection, Emergency SOS, and much more.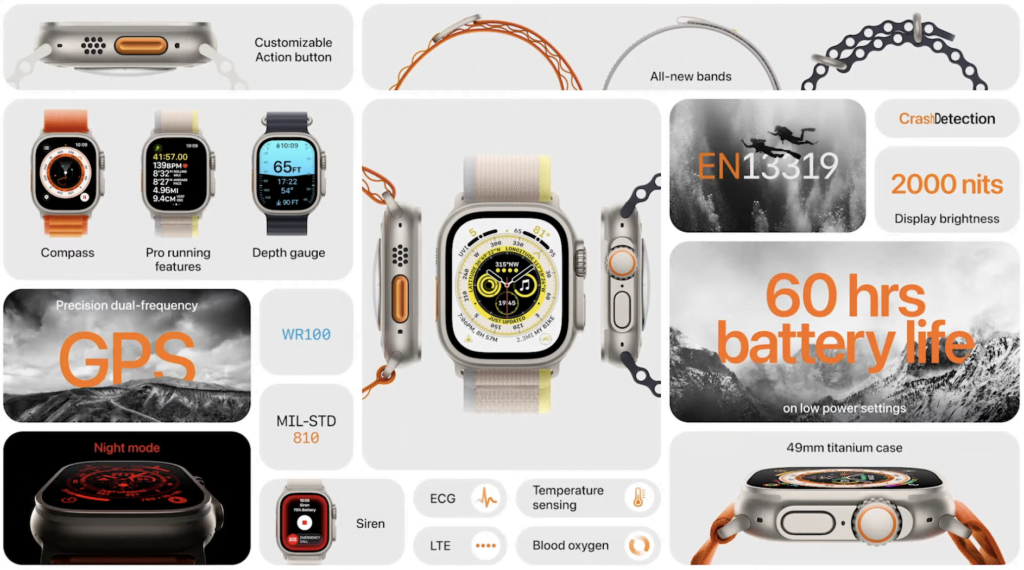 Pricing
The Apple Watch Ultra is available at a price of ₹89,900/- and it will be available with three strap options as follows.


We are very excited to try out the all-new Apple Watch. What about you? Let us know in the comment section. Till then, Stay Healthy, Stay Safe, Jai Hind!
---