Apple Event : 18 Oct 2021 : Apple Music, AirPods, MacBook Pro, M1 Pro, M1 Max
---
18th Oct, 2021, is the Day! Apple's 2nd event in about a month. And what a event it was, full of surprises and exciting announcements from Apple. Some of which we were already knowing as part of floating rumours over internet for past few months and some announcements were out of the world, and no one ever expected it. The 18th Oct event, was more focused on (Apple) Music and MacBook Pro. So let's check out in more details on the announcements from Apple around Apple Music, HomePod mini, AirPods, the M1 Pro and M1 Max Chips & MacBook Pro.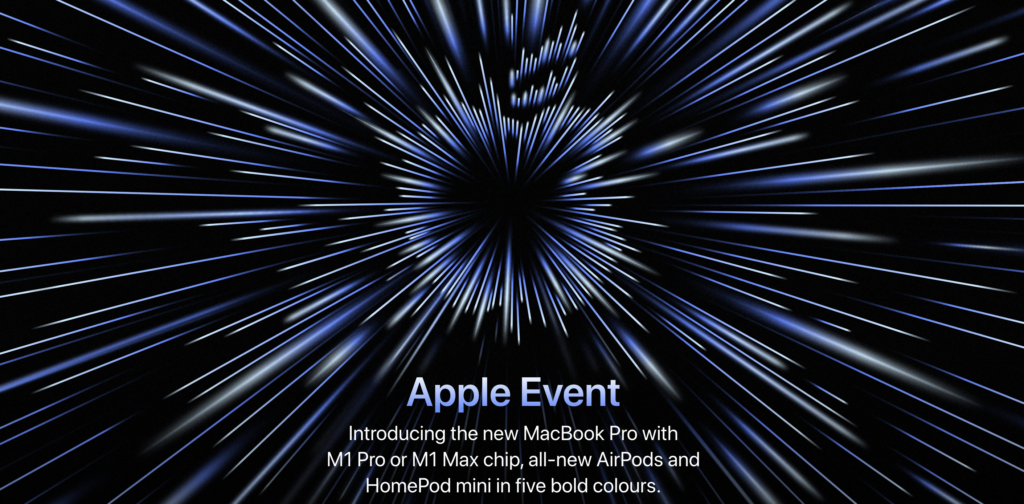 Apple Music
Today, Apple Music with Siri deliver a great music experience. Pretty much anything you want you can ask, your favourite songs, albums, artists and so on. But at some times you are not sure and just wanted to hear right music for that right moment. And this is what Apple tried with the new Voice Plan for Apple Music powered by Siri. They have created hundreds of Playlist focusing the right moment like Dinner Party or Workout or Trekking etc. You just need to ask Siri and it will play right music for you.
Apple want to bring this experience to more people than ever before via a brand-new subscription plan to Apple Music, the Voice Plan. With this new plan, use only your voice and the power of Siri to play every song, every playlist, every station in Apple Music across your Apple devices for just ₹49/- a month. This plan will be available starting in 17 countries and regions.
So now, you have 4 plan to choose from to enjoy Apple Music. Choose as per your need.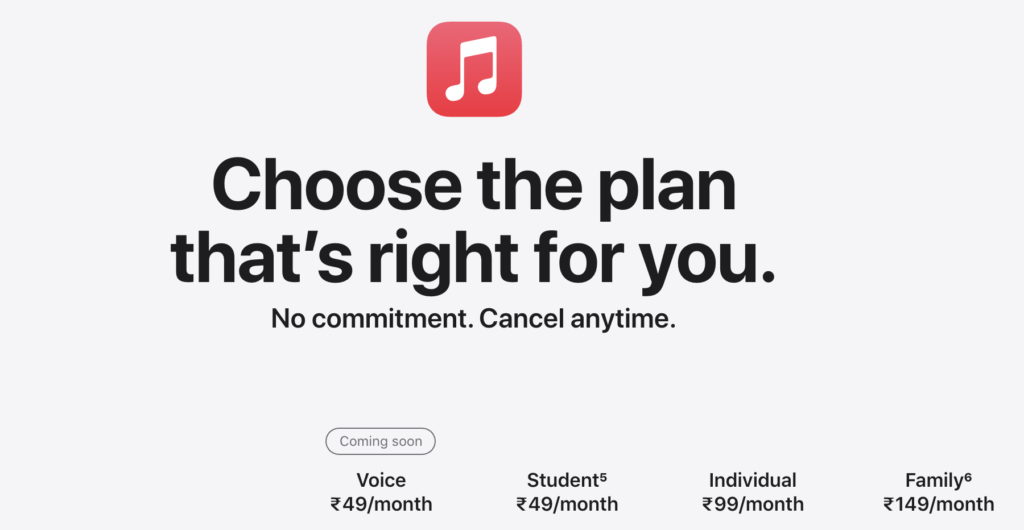 HomePod mini
HomePod mini is powerful smart speaker that delivers amazing sound, the intelligence of Siri & keeping your Privacy intact. Previously it was available in only White and Space Gray, but now Apple has introduced three more colours, Orange, Blue and Yellow.
These new colours will be available in late November at same ₹9900/- price.
AirPods (3rd Generation)
AirPods (3rd Generation) are now comes with Spatial audio with dynamic head tracking places sounds all around you to create a three dimensional listening experience for music, TV shows, movies and more, immersing you in sounds from every direction so it feels like you're in your very own concert hall or theatre.
It also comes with Adaptive EQ that tunes music to your ears. Adaptive EQ automatically tunes music to the shape of your ear. Inward-facing microphones detect what you're hearing, then adjust low- and mid-range frequencies to deliver the rich details in every song, customised for you in real time.
The force sensor gives you even more control over your entertainment. You can press to play, pause and skip through songs, or answer and end calls.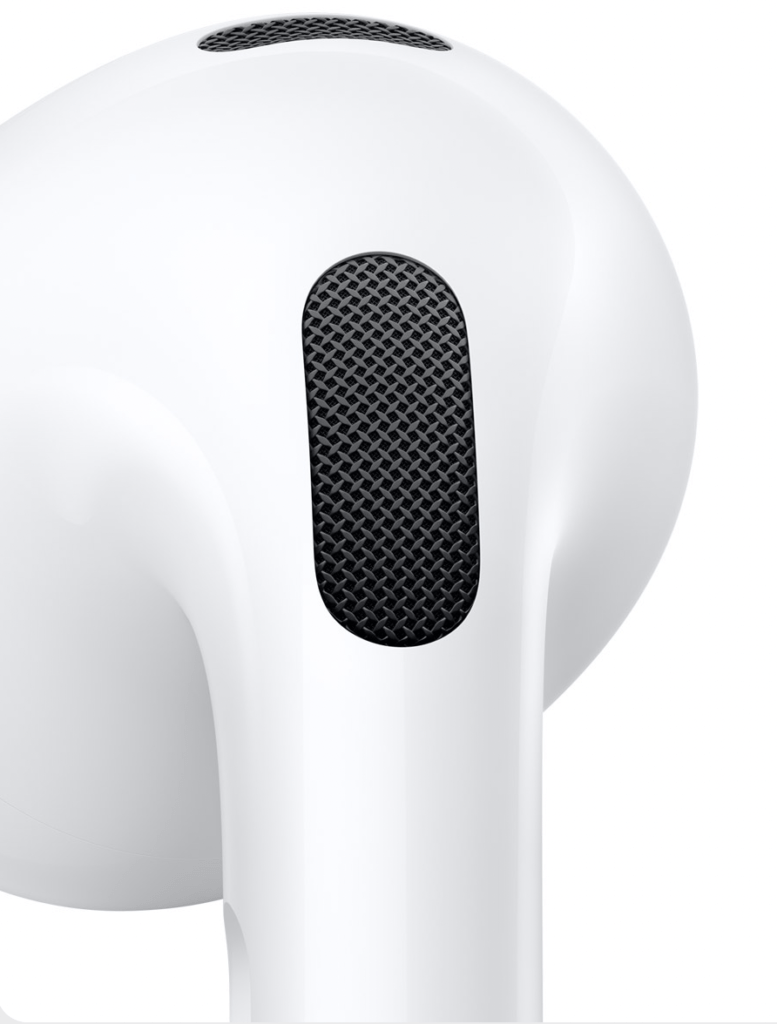 Covered in a special acoustic mesh, an inset microphone in each earbud minimises wind noise when you're on a call, so your voice is always heard loud and clear.
Both AirPods and the MagSafe Charging Case are rated IPX4 sweat and water resistant, so they'll withstand anything from rain to heavy workouts. Wirelessly and effortlessly recharge the MagSafe Charging Case on a MagSafe charger. Fully loaded, the case gives you up to 30 hours of total listening time. And charging AirPods in the case for just 5 minutes generates around an hour of listening time. AirPods gives 6 hours of listening time on one charge.
AirPods 3rd Generation are now available at ₹18500/- & will be available from 26th Oct, 2021.
Also Read

Ola Electric Scooters : The EV Revolution
Next Generation Apple Silicon : M1 Pro & M1 Max
M1 Pro and M1 Max scale the amazing M1 architecture to new heights, and for the first time, they bring a system on a chip (SoC) architecture to a Pro notebook. Both have more CPU cores, more GPU cores and more unified memory than M1. Along with a powerful Neural Engine for supercharged machine learning and upgraded media engines with ProRes support, M1 Pro and M1 Max allow pros to do things they never could before.
M1 Pro
M1 Pro takes the exceptional performance of the M1 architecture to a whole new level for pro users. Even the most ambitious projects are easily handled with up to 10 CPU cores, up to 16 GPU cores, a 16‑core Neural Engine, and dedicated encode and decode media engines that support H.264, HEVC and ProRes codecs.
Major Highlights of M1 Pro are,
Up to 32GB of unified memory
UP to 10-core CPU
Up to 16‑core GPU
Support for two external displays
Up to 200GB/s memory bandwidth
Up to 20 streams of 4K ProRes video playback
M1 Max
M1 Max is the most powerful chip ever created for a pro notebook, with 10 CPU cores, up to 32 GPU cores and a 16-core Neural Engine. It delivers two times faster graphics processing and double the memory bandwidth of M1 Pro. And it has a dedicated media engine for decode and two for encode with up to two times faster video encoding and two ProRes accelerators for even higher multi-stream performance.
Major Highlights of M1 Max are,
Up to 64GB of unified memory
UP to 10-core CPU
Up to 32-core GPU
Up to 400GB/s memory bandwidth
Support for four external displays
Up to 7 streams of 8K ProRes video playback
We will be posting a dedicated post for M1 Pro and M1 Max. So stay tuned.
MacBook Pro : 14″ & 16″ Models

The new MacBook Pro is available in 35.97-centimetre (14.2-inch) and 41.05-centimetre (16.2-inch) models. Each can be configured with the M1 Pro or M1 Max chip and offers unprecedented levels of pro performance. So you can manipulate millions of polygons in Cinema 4D, edit up to seven streams of 8K ProRes video in Final Cut Pro or grade colour in HDR on 8K 4×4 ProRes video.
With efficiency of Apple Silicon, 14″ MacBook Pro gives upto 17 hours of Video Playback and up to 11 hours of Wireless Web Browsing. On other hand, for 16″ MacBook Pro, it's 21 hours of Video Playback and 14 hours of Wireless Web Browsing.
Advanced thermal systems move 50% more air, even at lower fan speeds. And thanks to the efficiency of Apple silicon, the fans never turn on for many tasks you do every day.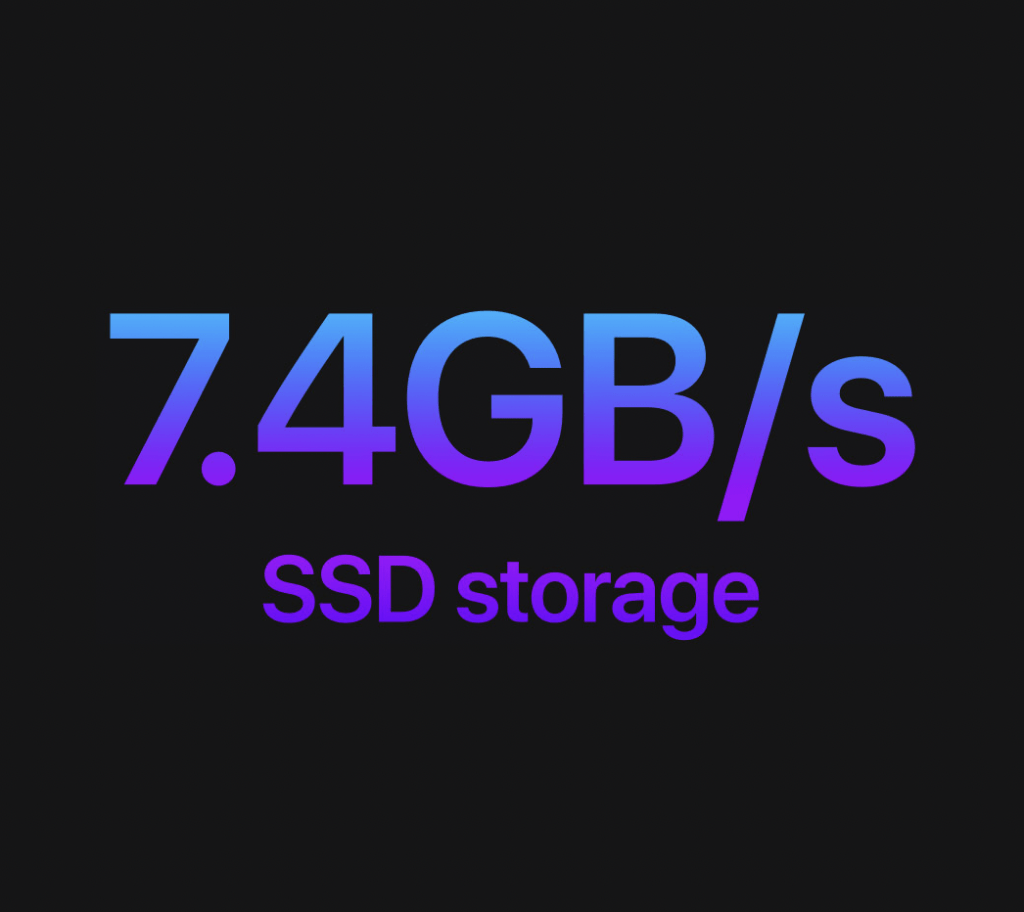 You can get read speeds from the (up to) 8TB SSD, up to 7.4GB/s or two times the previous generation. So you can open 8K videos instantly or store hundreds of thousands of RAW photos at once.
Next big highlight of the all new MacBook Pro is Liquid Retina XDR with ProMotion. The best display ever in a notebook features Extreme Dynamic Range and a million-to-one contrast ratio. HDR content comes to life in photos, video and games, with refined specular highlights, incredible detail in shadows, and vibrant, true-to-life colours. Each display is factory calibrated and features pro reference modes for HDR colour grading, photography, design and print production.
ProMotion comes to Mac for the first time, making everything from scrolling through a web page to gaming super-fluid and responsive, while also reducing power consumption. With refresh rates of up to 120Hz, the adaptive technology automatically adjusts to match the movement of the content. ProMotion video editors can also choose a fixed refresh rate that precisely aligns with their footage.
Few highlights are,
1,000 nits sustained brightness
1,600 nits peak brightness
10,000 mini-LEDs
10,00,000:1 contrast ratio
10,00,000,000 colours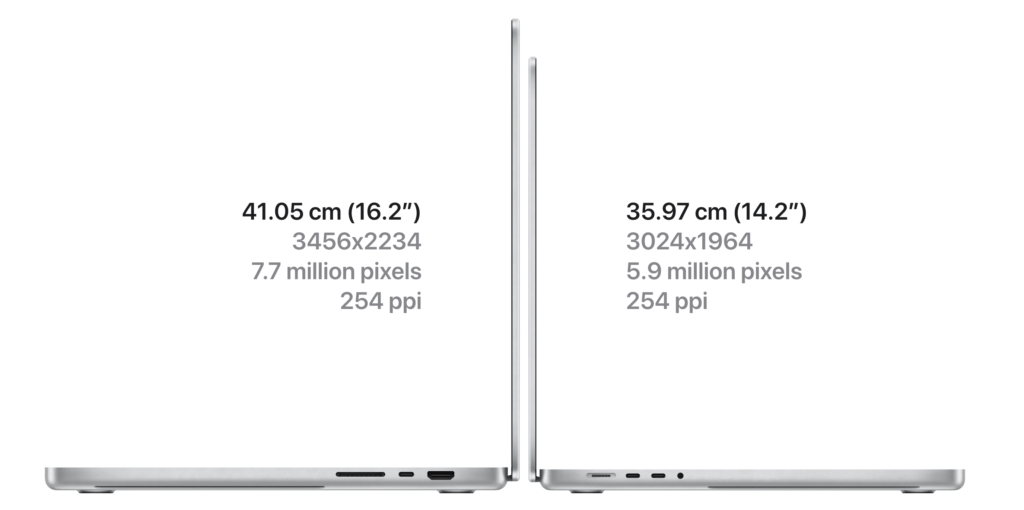 For the first time, Apple has brought the Ports back on MacBook Pro. With new design, we get three Thunderbolt 4 Ports, one HDMI Port, one 3.5 mm headphone jack and SD Card Slot. Also the magnetic MagSafe 3 Charger is also back.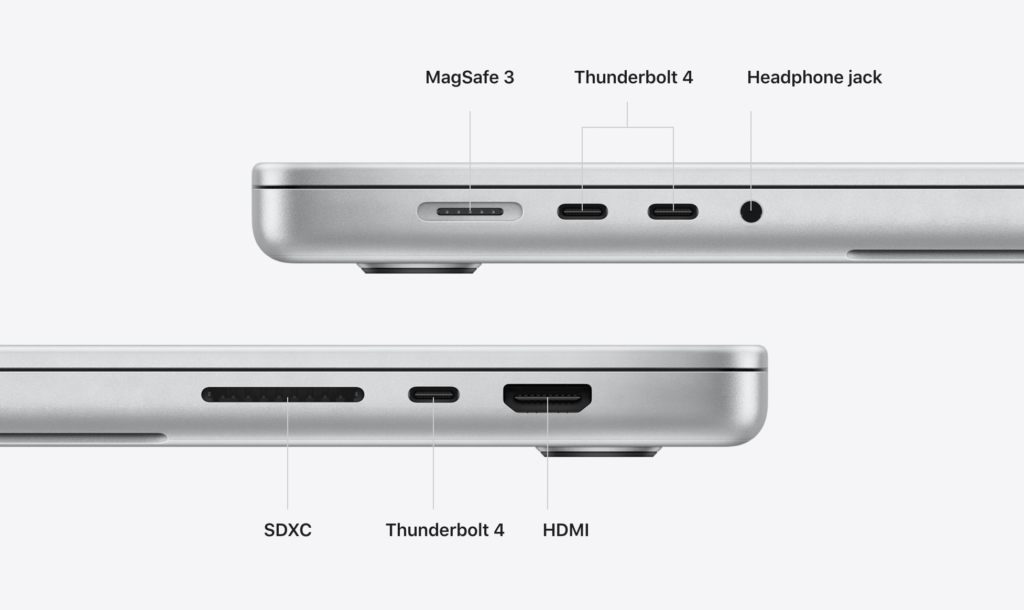 One of the major complaint with MacBook camera was its resolution. Apple always manage the camera performance with Software tweaks, but now they have provided the most awaited 1080p camera on lens. The new MacBook Pro camera has double the resolution, 1080p and uses a lens with a wider aperture that lets in more light. Together with a larger image sensor that has more efficient pixels, the camera delivers two times better low‑light performance.
Three studio‑quality mics. Thanks to mics with an up to 60% lower noise floor, MacBook Pro can capture even the subtlest sounds. And the three-mic array uses directional beamforming so your voice always comes through loud and clear.
Six-speaker sound system. Four force-cancelling woofers reveal notes up to a half-octave deeper and fill the room with up to 80% more bass. And the high‑performance tweeters project clearer, fuller vocals.
Thanks to the room‑filling six‑speaker system and advanced algorithms, MacBook Pro supports spatial audio when playing music or video with Dolby Atmos, creating a sophisticated, three‑dimensional soundstage. Combine that with the Liquid Retina XDR display, and it's like having a portable theatre.
In past we have seen many MacBook Pro users complaining about the Touch Bar on MacBook Keyboard and they always wanted the full mechanical keyboard like one available on MacBook Air. You may say that it's personal choice, but this time Apple heard it and for the first time, Magic Keyboard brings a full‑height function key row to MacBook Pro, with the tactile feel of mechanical keys that pros love. It includes new keyboard shortcuts for Spotlight, Siri, Dictation and Do Not Disturb. And Touch ID has a new, tactile ring that guides your finger for a fast, easy, secure way to unlock your Mac.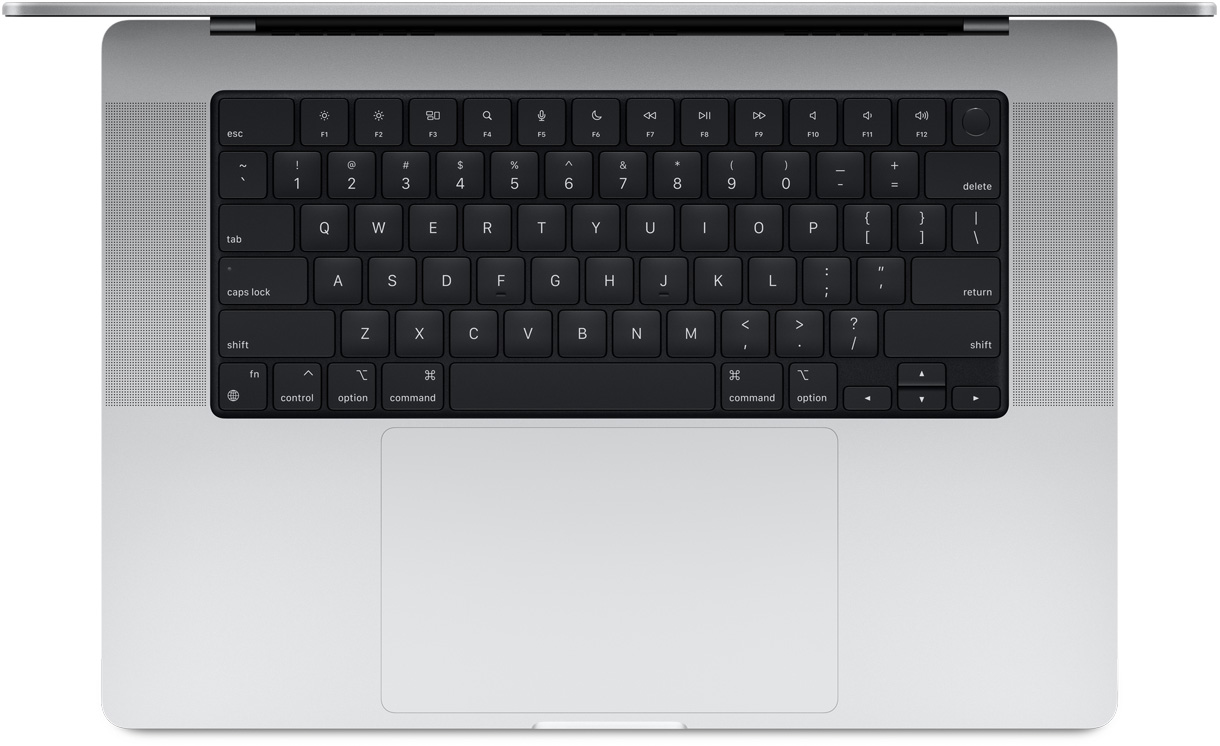 Pricing
With M1 Chip, there were not much options available to choose from. Only combination was to choose from storage capacity mainly. But with new M1 Pro and M1 Max Chips, there are tons of options to Choose from. We will release the MacBook Pro buying Guide soon to help you all with your purchase decision based on your needs and best value to money option. So stay tuned.
MacBook Pro 14″ base model is available at ₹194900/- and MacBook Pro 16″ base model is available at ₹239900/-.
So do let us know in comment section below about what you think of this event and announcements from Apple. Till then, Stay healthy, Stay Safe, Jai Hind!
---