Samsung Galaxy Note 20 Ultra : The Big Guy
---
Samsung Galaxy Note 20 Ultra is the Big guy of the Note family with overall improvement in all areas as compared to previous Note generations models. It ticks all the boxes you can think of for the mobile of Note category (with Stylus of course). You will be engaged with your both hands while using this mobile as it can't be used single handed due to its huge size.

Specification
6.9″ Dynamic S-Amoled QHD Display
Exynos 990 SOC (Octa Core, 7nm) – Indian Unit
Snapdragon 865 Plus – US Unit
12 GB of RAM
256 GB Internal Storage
Hybrid SIM Tray slot with Micro SD slot
Triple Camera Setup with OIS, 108M Main camera (f1.8), 12M Ultra wide, 12M Telescope zoom camera (5x Zoom, 50x Optical Zoom)
10MP Front Camera
With Improved S-Pen
Available Colors

Mystic Bronze
Mystic Black
Build & Design
It comes with full metal body design with Corning® Gorilla® Glass Victus™ — the toughest Gorilla glass ever in a smartphone at the back. It have the new signature colour for Galaxy: Mystic Bronze, a premium neutral tone with a satin texture. Surprisingly even with glass back, it does not attract finger prints which is plus point. Each Note Ultra is complemented by a matching S-Pen. The metal-glass body houses a stunning 6.9″ screen which QHD SAMOLED display, with tiny Hole Punch at top of the middle for front camera.
The hybrid Sim tray is located at the top along with secondary noise cancellation microphone. It also offers E-Sim compatibility, thus you can have one regular Sim and one E-Sim or two regular Sims. On right Side we have Volume rocker and Power button. At bottom, we have Stereo Speaker (AKG and Dolby Atmos), USB type C Port, Microphone & S-Pen Housing. Nothing on the left side.
At back it have the Triple camera with big camera bump, Laser Auto-focus and flash light. Camera setup consist of 108MP Main Camera, 12MP Wide angle camera & 12MP Telescope camera with 5x Zoom along with 50x Optical Zoom.
Overall design is very minimalist, but it feel good to hold the phone despite its big edge-to-edge display as it just 208gm. Weight is evenly distributed and thus does not feel heavy. Also its IP68 water and dust resistance certified, thus Keeps your phone safe from splashes, drips, and up to 1.5 meters of water for around 30 minutes.
Display
The display offered on Note 20 Ultra is 6.9″ Dynamic SAMOLED QHD edge-to-edge display with 120 Hz, which is the most Vivid and brightest display in a smartphone with 1500 nits, even most of the high-end laptops offers max 550 nits of display. So in nutshell it can go very bright and thus no issue with the screen visibility in any condition, Outstanding Maximum and Minimum brightness. The crisp display will be Always on (You can switch it off via setting if needed).
At top middle of the screen, there is tiny Hole Punch for the front camera. At lower half of the screen, it hosts in-display Ultra Sonic Finger Print Scanner, which is the fastest finger print scanner offered till date by Note series.
Camera
Now days mobile camera is so much evolved that one will not need to carry a dedicated camera and Note 20 Ultra is no exception to that. In fact its one of the best camera you can get on any smartphone, going head to head with Pixel or iPhone camera. Triple camera housing consist of 108MP Main Camera, 12MP Wide angle camera & 12MP Telescope camera with 5x Zoom along with 50x Optical Zoom. Images produced are so crisp, with accurate color reproductions and works in any lighting condition.
It offers 8K video recording with pro-movie like effects. Four times higher resolution than 4K UHD means way more detail and crisp recording. It provide full control of the shot with ISO, shutter speed, manual focus, and more options in Pro Video mode. You can also shoot in 24fps and choose between 16:9 or 21:9 aspect ratios to enhance the cinematic feeling. Pro mode gives you incredible control over your 8K recording. Control the zoom speed — zooming in slowly for a dramatic closeup, or zooming out fast for a grand reveal of the whole scene.
Set the camera to 120fps to shoot super smooth, detailed video. Keep it in real time or slow it down for slow-motion videos with less warping, less shudder, and way more action. Then when you play it back, the display automatically shifts to 120Hz for the full effect. Adjust the background depth for DSLR-like focus in your vlogs. Then heighten the magic of the scene choosing from a variety of effects and shifting their intensity: Blur, Big Circle, Color Point, and Glitch.
The night mode is no exception, producing well-lit, clear snap.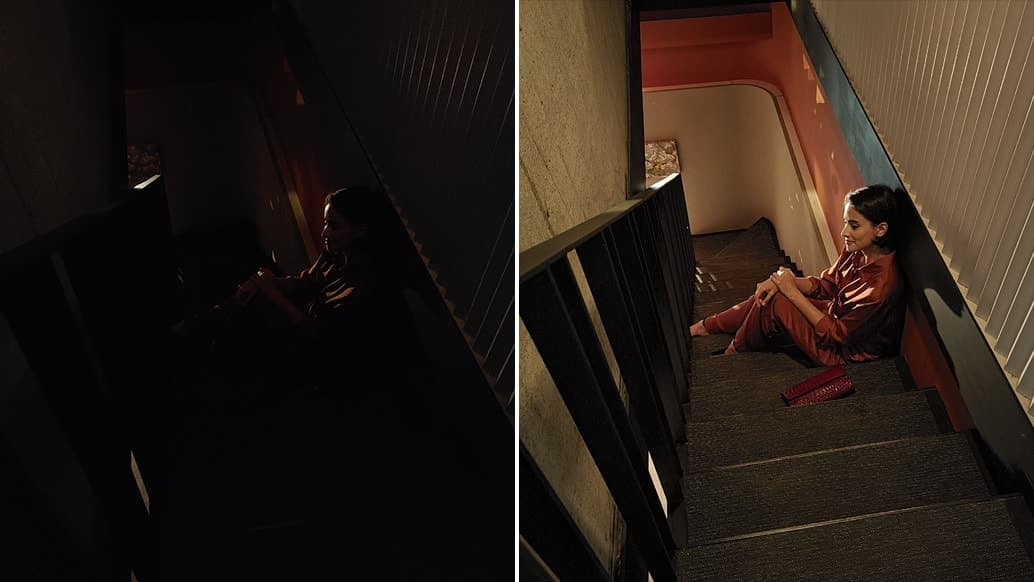 S-Pen
S-Pen on Samsung Galaxy Note 20 Ultra is the most accurate S-Pen ever made, with a response time of 9ms, and work like charm with a 120Hz Infinity display. Nice sound while writing like writing on the chalkboard. This is the best stylus experience on any Phone. But strangely this time it's located on the left side as compared to its previous generations.
With a tap of the handy S-Pen, your notations and notes to self transform into text you can copy and paste. And if you're writing at an angle or go off track, Auto straighten realigns your writing to keep your outlines tidy and organized. Apart from this, it supports all the S-Pen gestures.
Battery
The battery offered is 4500mAh which makes sure that you are well covered for the whole day. Screen-on-time it offers is approx 4-5 hours on Indian Unit. This is due to the Exynos 990 processor. But as per many YouTube reviews from the US, with a Snapdragon processor, you can get up to 6 hours of Screen-on-time. This is something which is not good from Samsung for India as this processor gets hits with heating as well.
It supports fast charging, providing 50% charging in just 30 mins. Also, wireless charging is there. On top of that, you can charge other devices with this Note 20 Ultra.
Performance
Overall performance of the device is no issue, switching between the apps is buttery smooth. No issue with gestures, use of S-Pen is a delight on this huge real estate. Playing games if best experience of the device, but with the Indian unit (Exynos processor) device gets hot, which is not the case with the US unit with Snapdragon processor. Apart from that no issue with the device. Sound offered is Stereo sound with loud output. So issue with Cellular reception and call quality is crisp and clear. WiFi and Bluetooth reception is also of top quality. The in-screen finger print scanner is Ultra fast, with top notch accuracy. This is truly the five start mobile in the current flagship lineups.
Pricing
Samsung Galaxy Note 20 Ultra is available at a price of Rs. 84,990/-.
---