Next MacBook almost Confirmed at WWDC-2021
---
In Nov-2020 we have seen a major event in history of personal computers, the launch of M1 Macs by Apple. This was a game changer. The M1 chip i.e. Apple Silicon is a full package delivered in form of SOC which is way more capable to its current competition. The performance per watt offered by M1 chip is no comparison to any of its competitors. But saying this, with recent rumours around, we can expect the new improved MacBook (Pro) from Apple as early as tomorrow at WWDC-2021. So, does this means that the New MacBook almost confirmed at WWDC-2021? Let's check it out.
World Wide Developer Conference – 2021
On March-2021, Apple announced date for its WWDC for 2021, 7th June. You can read more about it here. Like every year, expectation were for new Software updates, Whats new in Apple eco-system & likewise. But after announcement of Intel to Apple Silicon Shift at WWDC-2020, we can expect really more at 7th June 2021 WWDC around Apple Silicon and associated Product. That's where all recent rumours are fuelling in.
Rumoured MacBook Pro
Ian Zelbo, a 3D Concept Artist, posted some concept images on his Twitter account (@Rendersbylan) for the rumoured MacBook Pro.

Rumours suggest that the new MacBook will comes with the MagSafe Charging port, 2 Thunderbolt Type C ports, a Headphone Jack, HDMI port and most awaited SD card slot. All these are welcome changes as current M1 Macs only have 2 thunderbolt ports and everyone agrees that those are not sufficient. Due to limited IO options, Mac users always need to go for additional USC-C hubs or dongles. With these new port options, many Mac users now can have a dongle free life.
Also Read

Apple's World Wide Developer Conference 2021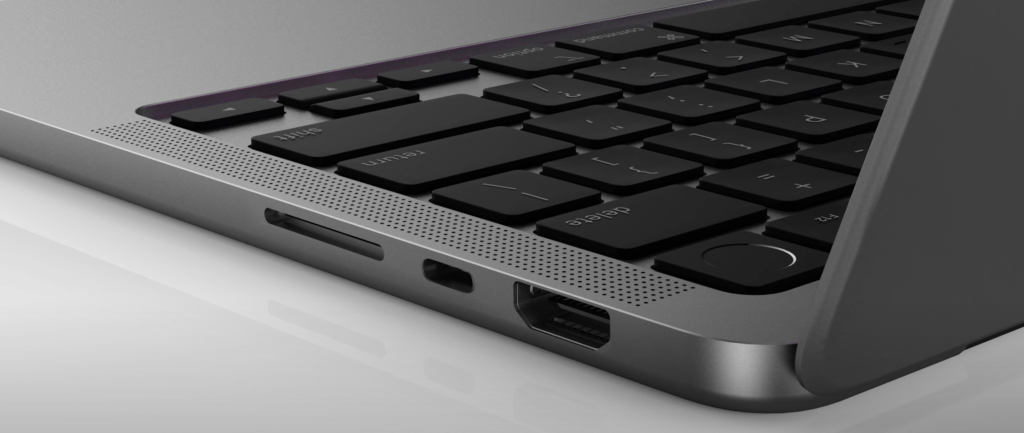 The Touch Bar on MacBook Pro is a good stuff to have, but it's criticised by many for it's usefulness. But frankly speaking, we always found it useful and will rate it as must have thing on MacBook Pro. But sadly, rumours suggest that the upcoming MacBook Pro will not have the TouchBar and it will be replaced by standard physical function Keys.
Inside MacBook Pro
So we have seen what the new MacBook Pro will look like from outside. But major changes will be at inside, i.e. processor. Its rumoured that the new improved M1X chip will be unveiled at WWDC with almost double performance as compared to current M1 chip.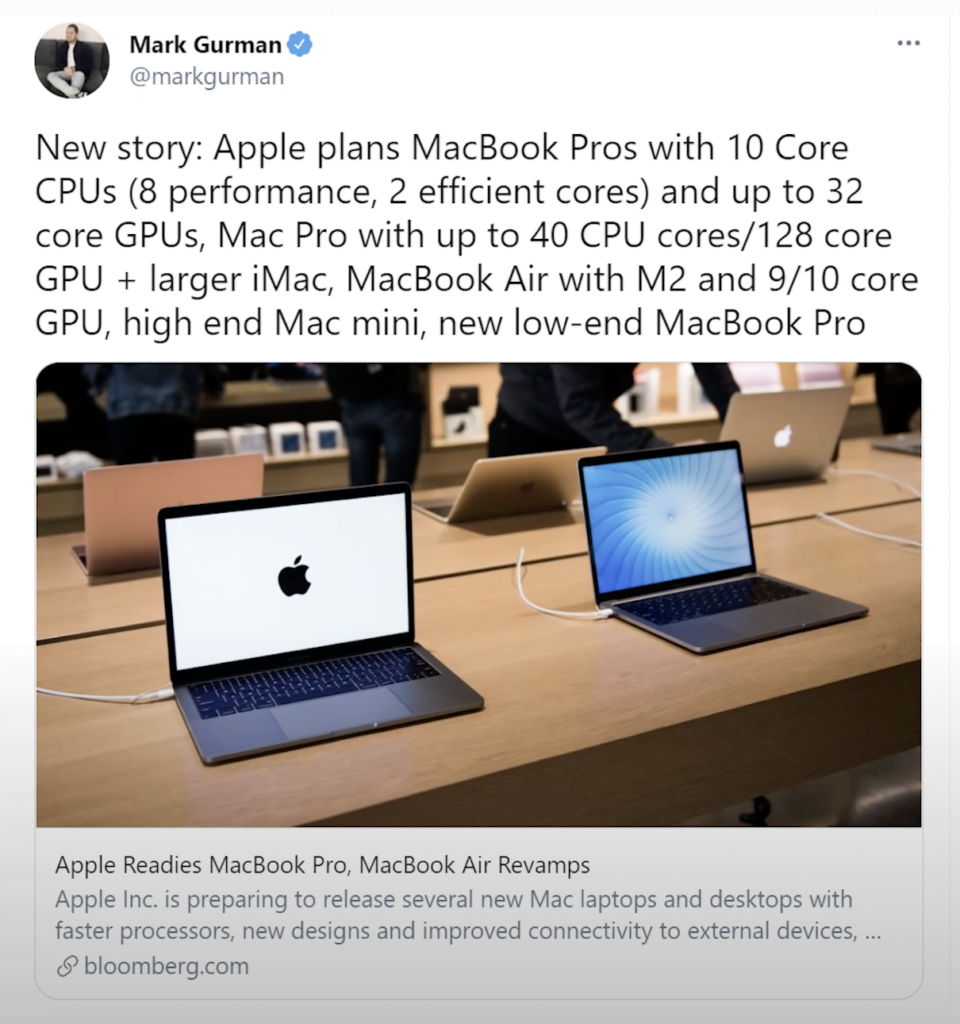 Recent twit from Mark Gurman on Twitter give us details on the upcoming rumoured MacBook Pro, probably at WWDC. New MacBook is rumoured to be available with 10 Core CPU (8 High Performance and 2 efficiency cores) and upto 32 core GPU. This is huge leap forward considering the the current performance offered by the M1 Chip with 8 Core CPU (4 High performance and 4 efficiency cores) and 8 Core GPU.
If you pay more attention to the specs, you will notice that Apple is putting more efforts toward GPU performance. With current 8 Core GPU, M1 is already giving hard time to many high end PC or Laptops with dedicated GPU. With increase in GPU core, we can see that Apple is trying to tick the box with GPU performance which was somewhat questioned by many Tech forums, considering Apple Silicon is a SOC.
Pricing
Now comes the major deciding factor for the consumers for any gadget purchases, the Price. Current M1 MacBook Air and MacBook Pro are Priced at ₹ 92,990/- & ₹ 1,22,990/- respectively. This are very tempting prices for such a high performance machines. Also with recent discounts from E-Commerce giants like Amazon and Flipkart, one can even get heavy discount upto ₹ 10,000/- on M1 MacBook purchases, thus straight forward choice for MacBook purchase.
If we consider this and also history of Apple, they always have high prices for their products for it's quality & what it can offer to consumer. We can expect same for the upcoming MacBook Pro lineup as well. Thus we can expect that the new MacBook Pro with the M1X chip and the enhancement with respect to ports etc. can start at around ₹ 1,44,000/- and can go above ₹ 2,00,000/-.
This clearly indicate that the M1 MacBooks are targeted for light use consumers where as the M1X MacBooks are targeted for the professionals like content creators or designers or likewise.
So let's wait for official announcements by Apple at 7th June 2021 WWDC event. Till then, Jai Hind & take care!
---