Xiaomi Mix Fold 3 Set to Launch on 14 August with Innovative Features
---
The forthcoming launch of the Xiaomi Mix Fold 3 on August 14 is a testament to Xiaomi's commitment to technological innovation. With a Leica-branded quad-camera system, slightly curved corners, and visionary leadership from CEO Lei Jun, the device promises to redefine smartphone photography and design standards. The launch event, set to begin at 7:00 pm China time, as per a tweet on X (Formerly known as Twitter), signifies not just a product unveiling but a celebration of Xiaomi's dedication to pushing boundaries and shaping the future of mobile technology.
Introduction
In the ever-evolving landscape of mobile technology, Xiaomi has consistently emerged as a frontrunner, pushing boundaries and redefining innovation. The anticipation surrounding the imminent launch of the Xiaomi Mix Fold 3 has reached the next level, with enthusiasts and experts alike eagerly awaiting its unveiling on August 14. With a Leica-branded quad-camera system at the rear, slightly curved corners, and the visionary leadership of Xiaomi's founder and CEO, Lei Jun, this forthcoming flagship promises to be a game-changer in the world of smartphones. This announcement is coming just after Samsung unveiled their next generation of Foldable smartphones.
The Leica-Branded Quad-Camera System: A Leap in Photography
One of the most compelling aspects of the Xiaomi Mix Fold 3 is the integration of a Leica-branded quad-camera system at the rear. This partnership signifies a remarkable convergence of two industry giants, Xiaomi and Leica, renowned for their commitment to technological excellence. The amalgamation of Xiaomi's engineering prowess and Leica's photographic expertise is poised to set new benchmarks in smartphone photography. This quad-camera system is poised to offer unprecedented clarity, depth, and color accuracy, catering to both amateur and professional photographers. Such innovation is a testament to Xiaomi's unyielding dedication to providing users with an unparalleled visual experience.
Design Beyond Boundaries: Slightly Curved Corners
In a world dominated by rectangular slabs of glass, Xiaomi has dared to step outside the conventional design realm. The Xiaomi Mix Fold 3 flaunts slightly curved corners, a subtle yet impactful departure from the norm. This design innovation not only enhances the device's aesthetics but also contributes to ergonomics and user comfort. The curvature seamlessly integrates with the user's grip, offering a natural and immersive feel during usage. Xiaomi's willingness to experiment with design underscores its commitment to thinking beyond the ordinary, bringing users a harmonious fusion of style and functionality.
Rumors around Xiaomi Mix Fold 3 Specification
As per rumors, the Xiaomi Mix Fold 3 will come with,
8.03-inch Internal Display
2K Resolution
120Hz Refresh Rate
Samsung E6 Display, both inside and outside
2600 nits of Peak Brightness
Snapdragon 8 Gen 2 Processor
50W Wireless Charging
---
Also Read,
With OnePlus Open, OnePlus Enters the Foldable Smartphone Market
---
Countdown to Unveiling: Launch Event Details
The highly anticipated launch event of the Xiaomi Mix Fold 3 is scheduled to commence at 7:00 pm China time on August 14. Xiaomi aficionados and tech enthusiasts around the world are eagerly counting the hours to witness the unveiling of this groundbreaking flagship device. The launch event, to be hosted on the Chinese microblogging platform Weibo, is poised to be a spectacle of technological marvels and design revelations. This event is not just a product introduction but an embodiment of Xiaomi's commitment to fostering a global community of tech enthusiasts and innovators.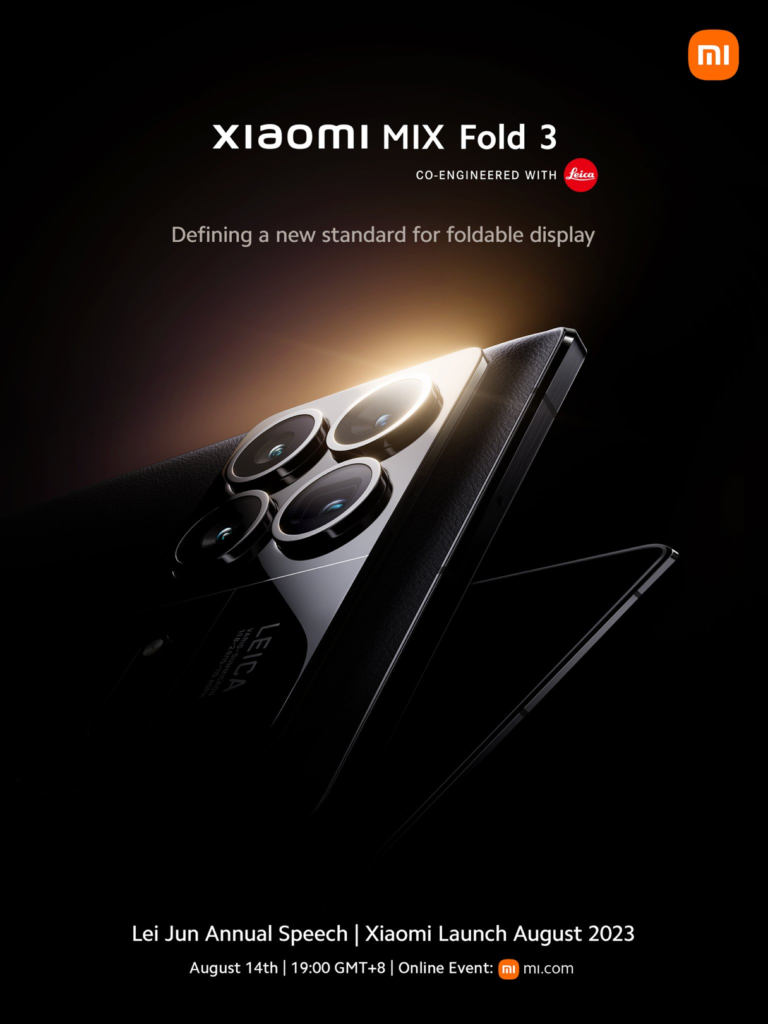 A Glimpse into Tomorrow
In a world where technological advancement is relentless, Xiaomi stands as a beacon of innovation and creativity. The impending launch of the Xiaomi Mix Fold 3 signifies more than just a product introduction; it's a testament to Xiaomi's relentless pursuit of excellence. The Leica-branded quad-camera system, the distinctive curved corners, and the visionary leadership of Lei Jun all converge to create a symphony of technological brilliance. As the countdown to the August 14 launch event continues, tech enthusiasts and smartphone aficionados are brimming with excitement, ready to catch a glimpse of the future Xiaomi has crafted.
Stay Healthy, Stay Safe, Jai Hind!
---