Samsung 24 inch Monitor (LS24R356FHWXXL) : Great Choice for Work From Home
---
This is another article in Work From Home Series. If you are working for extended long hours, then external monitor is must for your laptop. If you are working on desktop PC, then good monitor is key element of the PC setup. Now you may ask, what will be the ideal size for monitor. This is very subjective question as Screen size mainly depends upon the work for which you will use your monitor. If you will be using it for Programming or Office use then normal size is ok, but if you want to use it for content creation then big size or curve monitors may be a good choice. But on-an-average 24 inch monitor is best suit for everyone. So lets go with everyone's choice and check out Samsung 24 inch Monitor (LS24R356FHWXXL).
Specification
24″ FHD monitor with bezel-less design
AMD Freesync
Refresh Rate : 75hz
Incredibly slim and sleek design
Smooth game play with AMD Freesync and Game mode
Dimensions : 54 x 5 x 42.5 cm
Weight : 3.4 kg
Response Time : 5 Milliseconds
Port Availability : HDMI, D-Sub In (VGA)
In the Box
In the Box we get,
24 inch Monitor
HDMI Cable
Power Cable
Monitor Stand with Screws
Cable Organizer
Documentation
You can also visit our YouTube Chanel for this review.
Build & Design
Samsung 24-inch Monitor (LS24R356FHWXXL) is made up of high-quality plastic. No flex was observed at any place overall the monitor body including stands. It comes with a Y-type stand which gives it a minimalistic look & consumes very less space as well. The stand comes in two-part and you need to assemble & fix it by the screw provided in the box. It also comes with a cable organizer hook which you can slide at the back of the stand to hold all cables, thus providing a cleaner setup.
At the back, it hosts the Power Button, HDMI port, D-SUB IN (VGA) Port, and DC 14V power input. No USB-C type connectivity option is available like high-end monitors. No in-build Speakers as well.
In the box, you get HDMI to HDMI cable only. So if your laptop does not have a HDMI port, then you need to purchase the USB-A/USB-C to HDMI cable separately depending upon port availability on your laptop.
Also Read

Acer Swift 3 (2020) : The Monster
Display
Samsung 24-inch Monitor (LS24R356FHWXXL) comes with an almost bezel-less design on three sides. At the bottom, it has a little chin with Samsung branding in the middle. The resolution offered is Full HD i.e. 1920 x 1080 & screen has a matte finish, thus no issue with reflections. It has a refresh rate of 75Hz which is very good as compared to 60Hz which is normally offered by other monitors in this segment. For normal operations there is no issue and light to moderate gaming is also buttery smooth on this monitor. But hard-core gamers will miss the high refresh rate offered by Gaming monitors for sure.
It also comes with AMS free sync thus a Superfluid entertainment experience. AMD Radeon FreeSync keeps your monitor and graphics card refresh rate in sync to reduce image tear and stutter. Watch movies and play games without any interruptions. Even fast action scenes look clear and seamless. Along with this, it also has a dedicated Game mode that offers optimal color settings and image contrast to see scenes more vividly. Also, it offers Eye Saver Mode for long hours of stress-free viewing.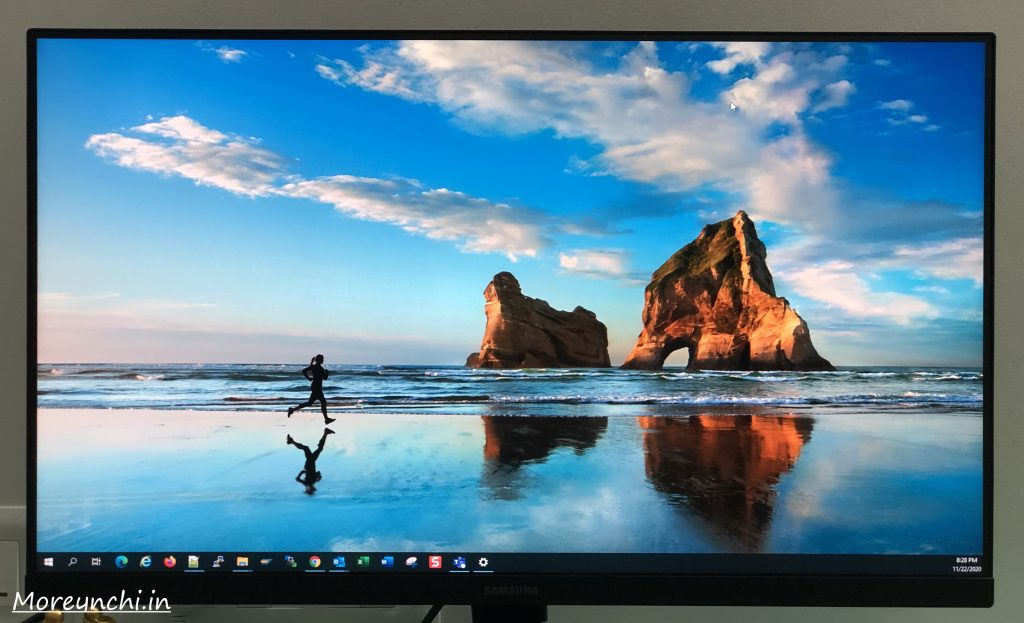 Overall Color reproduction is good, blacks are black. Even 4K video playback is awesome. No backlight bleeding or any screen distortions. Perfect for watching movies, playing normal games, and Office use. Below is a sample video playback, our camera may not be able to do justice to screen clarity, but it's crisp, and no issue with viewing angle, etc. as well.
Functions/Setting Options
This monitor offers all standard functions i.e. color/brightness/sharpness adjustments, FreeSync On/Off, Display Position, Eye Saver Mode On/Off, Dedicated Game mode, and so on. Below are the sample photos from the setting options.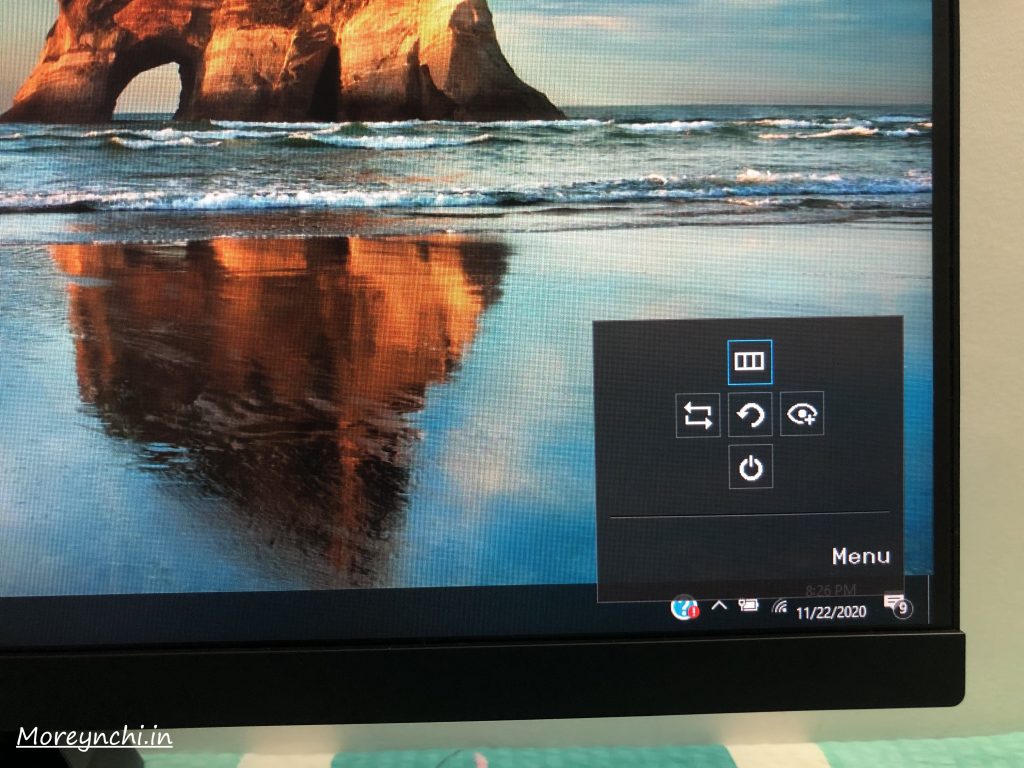 Overall
Samsung 24-inch Monitor (LS24R356FHWXXL) is a great monitor for Work from Home Setup. Good color reproduction, no issue with blacks, can go very bright, dedicated gaming mode, AMS FreeSync, 75Hz refresh rate, and Eyecare mode as well. You can definitely go for it.
Pricing
This monitor is available at around ₹ 15,000/- but you can get it as low as ₹ 10,500/- during the offer period.
---