Official Announcement of Apple's Oct-2020 Event
---
Apple officially announced it's Oct-2020 event, tagline "Hi, Speed" and sent out invites.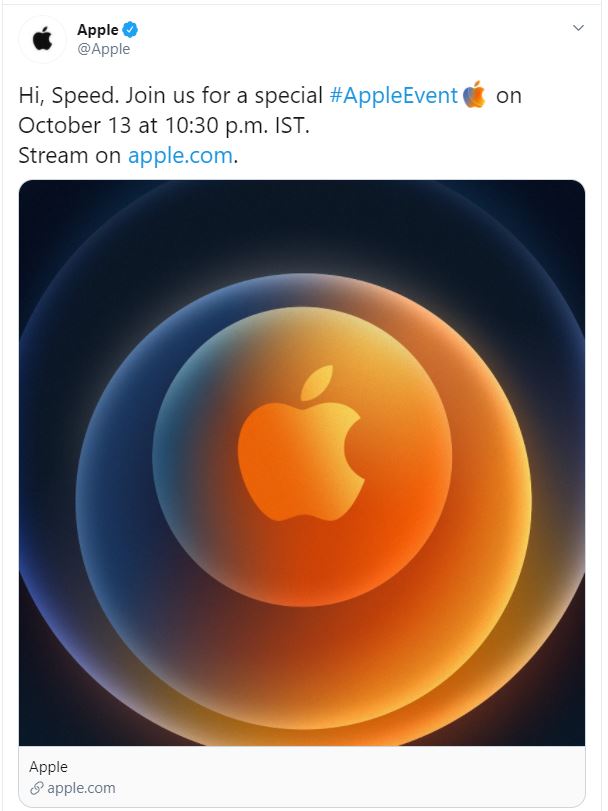 After the Sept-2020 event which was more focused on iPad and Apple Watch, all eyes are on Oct-2020 event where everyone is looking for announcements about Apple iPhone 12, Macbook with Apple Silicon and Air Tags.
At Sept-2020 event, Apple announced Apple Watch 6, Apple Watch SE, new iPad Air, 8th generation iPad, Apple Fitness+ and Apple One Service. The delivery of the announced items mostly starts in Oct-2020.
At WWDC 2020 Apple announced its move from Intel to Apple Silicon. Since then whole world is waiting for the first Macbook with Apple Silicon, after multiple virtual benchmarks by Tech-world and some hints by the App developers who tasted the Apple Silicon via Developer kit.
Hence, even though the highlight of October event is iPhone 12, many are praying for the announcement of Macbook with Apple Silicon. So let's wait for the official event on 13th Oct 2020, fingers crossed!!!
---