Logitech MK235 Wireless Keyboard & Mouse : Long Term Review
---
2020, The year everyone will remember for long, due to this Covid-19 pandemic. Covid-19 almost made the world to halt, almost every country was under lockdown for some period. It pushed everyone to their limits and brutally tested the endurance one can have. Whole world started working from home and thus the IT guys. But working from home is not same as working from office, most of us do not have all accessories which are must for long-hours of working. These include Laptops, External Monitors, Keyboard, Mouse, Scarp Pad, Web-Cam and so on. In this post, we are about to check one Combo, the Logitech MK235 Wireless Keyboard & Mouse. I have been using it for more than 6 months and will provide my personal experience with this Keyboard and Mouse combo.

Specification
Dimensions

Keyboard

Height: 137.5 mm
Width: 435.5 mm
Depth: 20.5 mm
Weight: 475 g with 2x AAA battery
Weight: 425 g without battery

Optical Mouse

Height: 97.7 mm
Width: 61.5 mm
Depth: 35.2 mm
Weight: 70.5 g

Nano Receiver

Height: 18.7 mm
Width: 14.4 mm
Depth: 6.6 mm
Weight: 2.0 g

Wireless Range : Up-to 10 meters
Material : Hard Plastic
Battery Life : 36 Months for Keyboard & 12 Months for Mouse
Compatible With

Windows 7/8/10
macOS
Chrome OS
LINUX Kernel 2.6+
Also Read

Laptop for Work From Home – Lenovo IdeaPad S340
The Keyboard
Logitech MK235 Wireless Keyboard & Mouse combo offers a full-size keyboard with dedicated numpad & function keys. Material used is plastic, but it does not feel cheap. Key travel is descent and feedback while typing is good. If you are coming from laptop keyboard say from Ultrabook or MacBook, then you will feel that you need to press keys quite hard. But you will get used to it in hour or so. Function keys also act as quick access to Calculator, Audio/Video Controls, Mail, Sound Control & Print Screen.
On backside, you have housing for height extension stands which allow you to place the keyboard at an angle. Also there are three rubber pads at bottom to give the firm grip to the keyboard. Keyboard works on 2 AAA batteries which to be placed in the socket at back of the keyboard. This is also Spill resistance, so not to worry about spilling some water accidently.
Best part is availability of dedicated option (via function keys) to take scree print which was missing on my laptop. It comes very handy and since I got this keyboard, I rarely used the Snipping tool or SnagIt for full screen print. Overall typing experience is good. But somehow the key with letter "N" need extra pressure each time & this is consistent behavior. Nothing stuck between keys or like that, but this is the way it is. Also Logitech claim wireless range up-to 10 meters, but if I put keyboard away from the laptop say around 3-4 feet, it does show lag i.e. Key press will reflect on screen with noticeable delay. This is the most annoying thing I experienced with this keyboard.
The Mouse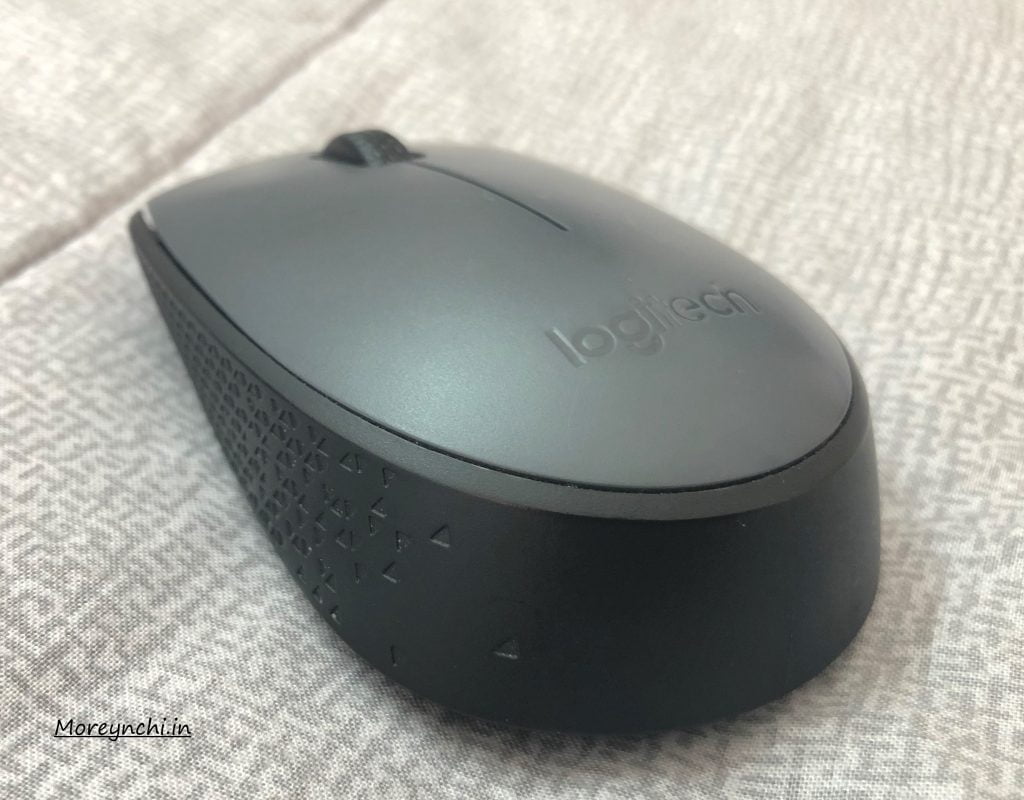 Mouse View 1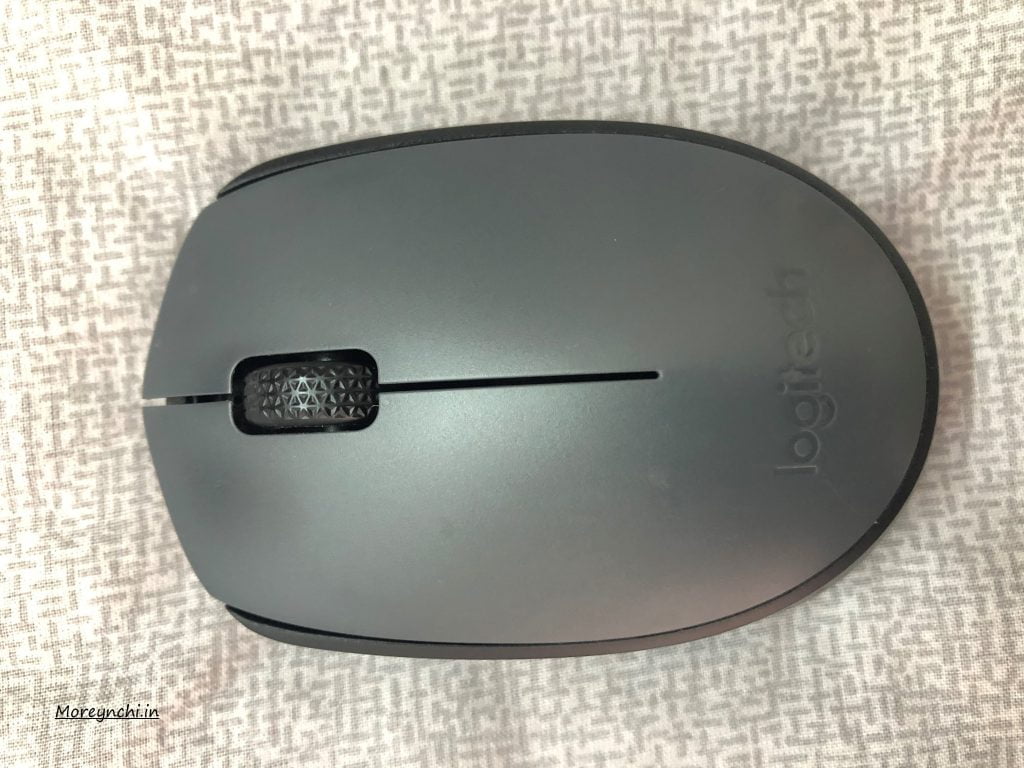 Mouse View 2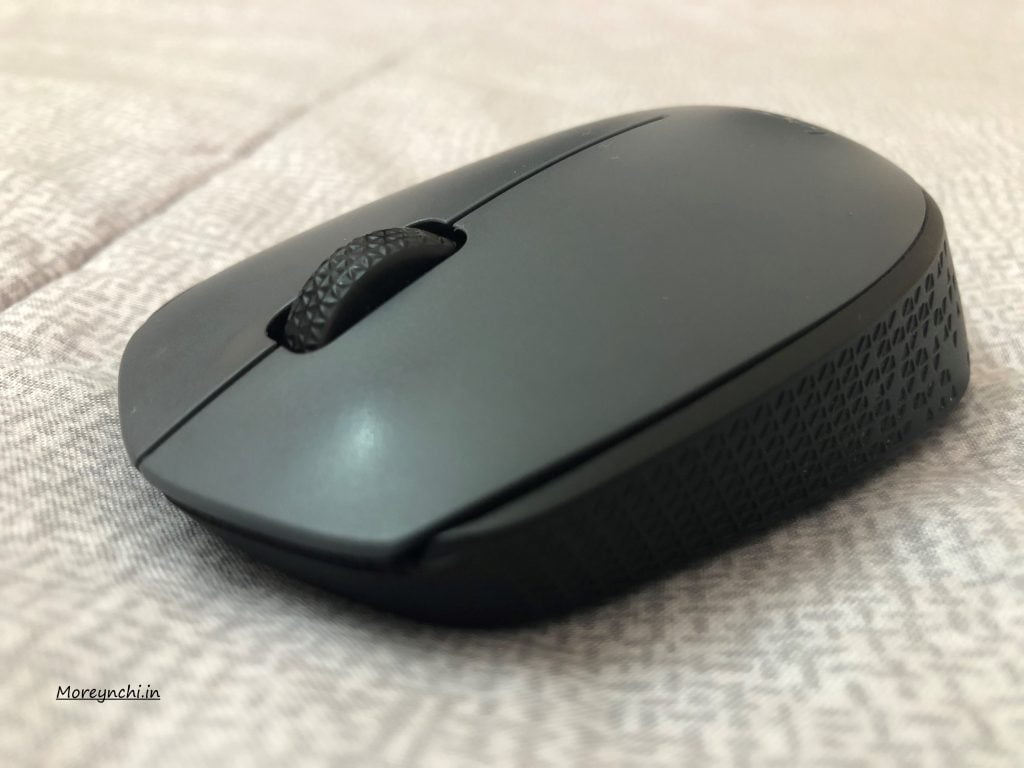 Mouse View 3
The mouse from Logitech MK235 Wireless Keyboard & Mouse combo has a textured surface around the mouse holding area which gives a good grip. The size of the mouse is comfortable & it's easy to operate. Mouse Click buttons are part of the top uniform surface and provide good feedback on click. The overall mouse has a Matte finish and it's not a fingerprint magnet. At the bottom, it has an optical sensor, an On-Off button & housing for the battery, and a USB receiver. This USB receiver act as a connector for both mouse and Keyboard.
No issue faced while using this mouse, button feedback is excellent, and grip due to the textured surface is a plus. Overall very good mouse.
Pricing
The official price for Logitech MK235 Wireless Keyboard & Mouse combo is ₹ 2099/- but via Amazon or retail outlets, you can get it at price as low as ₹ 1,400/-.
---