Future is Here : Apple M1 Pro and M1 Max
---
Wow, what an event by Apple on 18th Oct 2021. After announcement of Intel to Apple Silicon transition last year followed by the M1 Apple Silicon chip release, every Pro user was waiting for such announcement from Apple. This is pure Pro stuff from Apple, giving more that what everyone was expecting after the M1 chip release and the performance it has shown with entry level Macs. Apple introduced not one, but two new powerful chips, Apple M1 Pro and M1 Max, which will be available with MacBook Pro only as of now. So let's check it out in more details.
Future is Here : M1 Pro & M1 Max
With release of M1 Chip, Apple introduced new SoC architecture to the world, where CPU, GPU and Memory were on same chip. If we consider traditional systems, they have CPU, GPU and Memory as separate components. For more performance, you need to increase CPU and GPU power independently and each of these things require more and more power.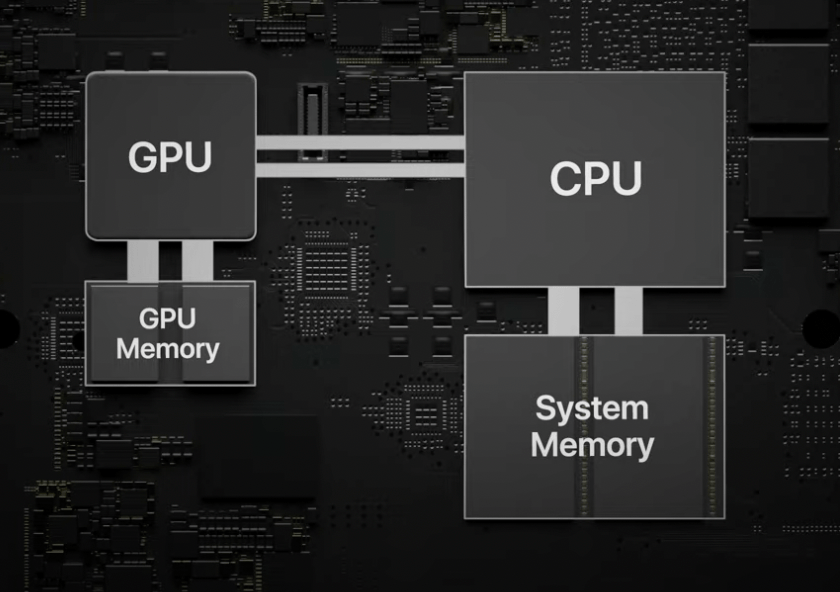 On other hand, M1 Pro and M1 Max combine the CPU, GPU, I/O and Neural Engine in a single SoC with unified memory. As a result, M1 Pro and M1 Max not only crush intensive workflows that were once impossible on a notebook but also provide incredible battery life.
Other pro notebooks need to copy data back and forth over a slower interface. Not the new MacBook Pro. Its CPU and GPU share a single pool of unified memory. That means every part of the chip connects to data and memory without needing to copy it, so everything you do is faster and more efficient.
M1 Pro
Based on the M1 architecture, by extending SoC fabric with doubling memory interface and using faster DR, M1 Pro is able to deliver up to 200 GB/s memory bandwidth. This is nearly 3 times the memory bandwidth of M1. This chip is based on industry leading 5 nanometer technology and built using nearly 33.7 billion transistors, that more than 2 times that of M1.
M1 Pro comes with up to 10 CPU core, out of which, 8 are high-performance core and 2 are high-efficiency cores. This delivers upto 70% faster CPU performance than M1.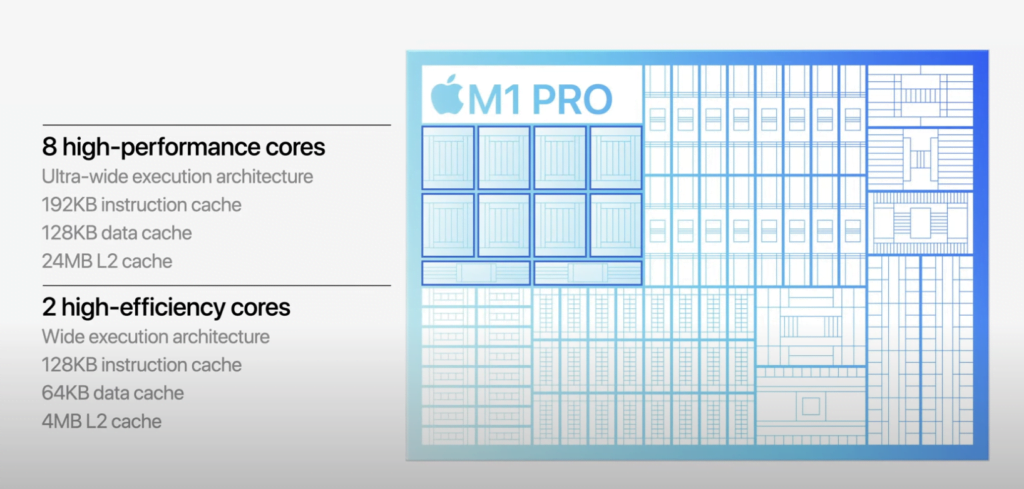 In graphics area, M1 Pro comes with 16 GPU cores, that is 8 more GPU cores than M1. These additional cores along with increased memory bandwidth gives M1 Pro up to 2 times faster GPU performance than M1.
Coming to media engine, M1 Pro has industry leading media engine that accelerate video processing while using very little power. And now it comes with ProRes, which is one of the highest quality codec in professional video production. With addition of ProRes acceleration enables M1 Pro to play multiple 4K & 8K ProRes videos while using just little power. This is only possible as Apple has developed their own Silicon.
So to summarise, M1 Pro Chip extends the M1 Architecture to next level, with more CPU and GPU cores, ProRes, up to 32 GB unified memory, 200 GB/s memory bandwidth and so on. We have already seen what M1 can do, so no surprise that M1 Pro will do wonders.
Also Read

Apple Event : 18 Oct 2021 : Apple Music, AirPods, HomePod mini, M1 Pro, M1 Max, MacBook Pro
M1 Max
M1 Pro is no doubt will do wonders as per what we have seen in M1. But Apple wanted to take this to next level, and hence, here it comes the M1 Max.
M1 Max is built on the M1 Pro architecture. M1 Max start with much higher bandwidth on chip fabric and doubles the memory interface. This enables it to deliver up to 400 GB/s memory bandwidth, 2 times that of M1 Pro and 6 times that of M1. This wider memory interface let M1 Max support upto 64 GB of unified memory and consists of 57 billion transistors, that 3.5 times the count of M1.
M1 Max have same CPU structure as M1 Pro, but it excels in GPU area. It has up to 32 core GPU, thus giving up to 4 times Graphics performance as compared to M1.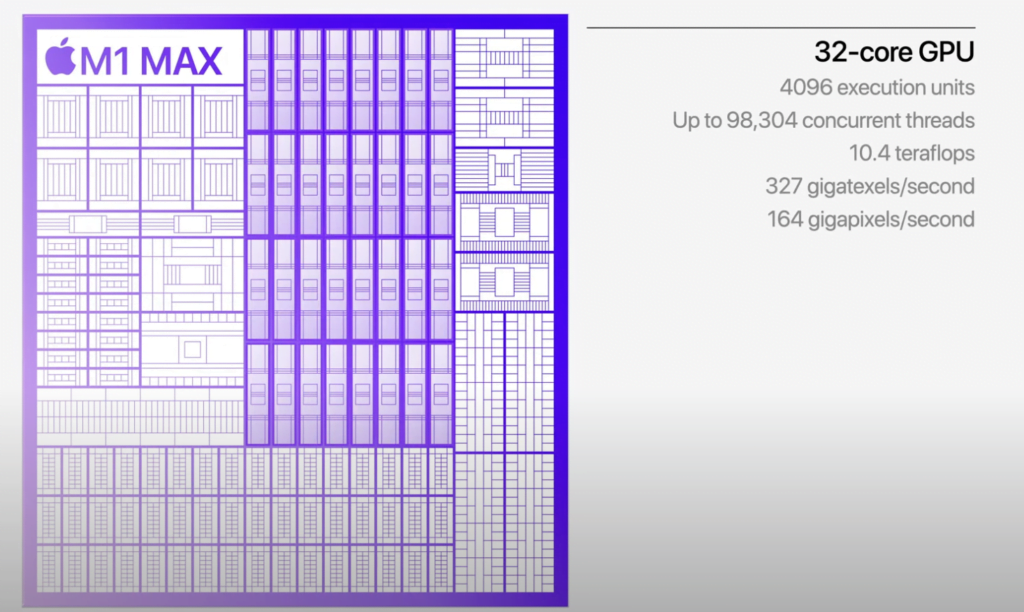 Talking about Media Engine, M1 Max comes with more powerful media engine as compared to M1 Pro with two ProRes codecs, thus delivering double performance than M1 Pro.
Performance Vs Power
At their peak, M1 Pro and M1 Max deliver 1.7 times more performance than the latest 8-core PC laptop chip in the same power envelope. And they match the highest performance levels of the PC chip at 70% less power.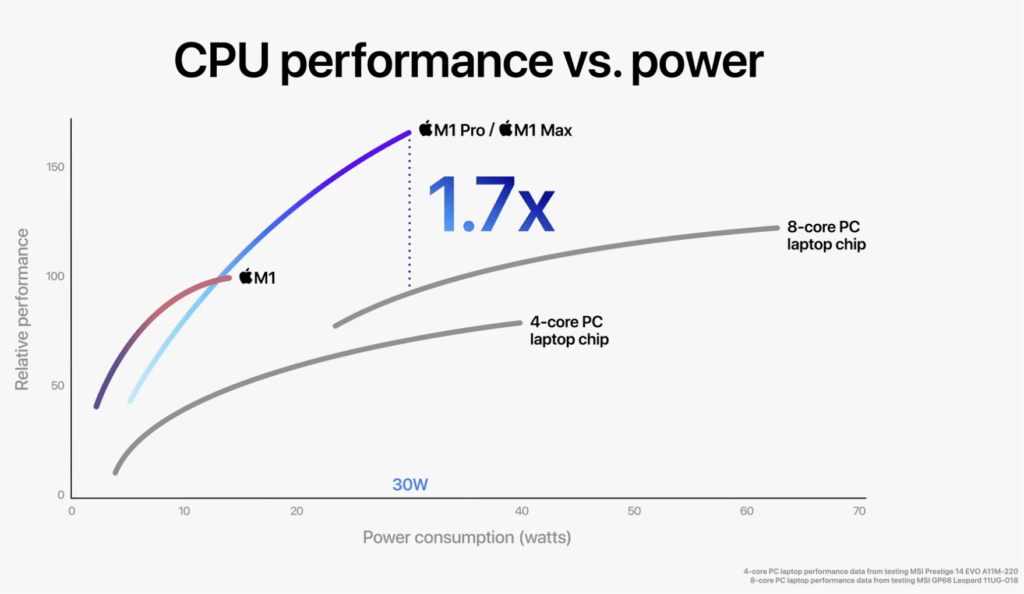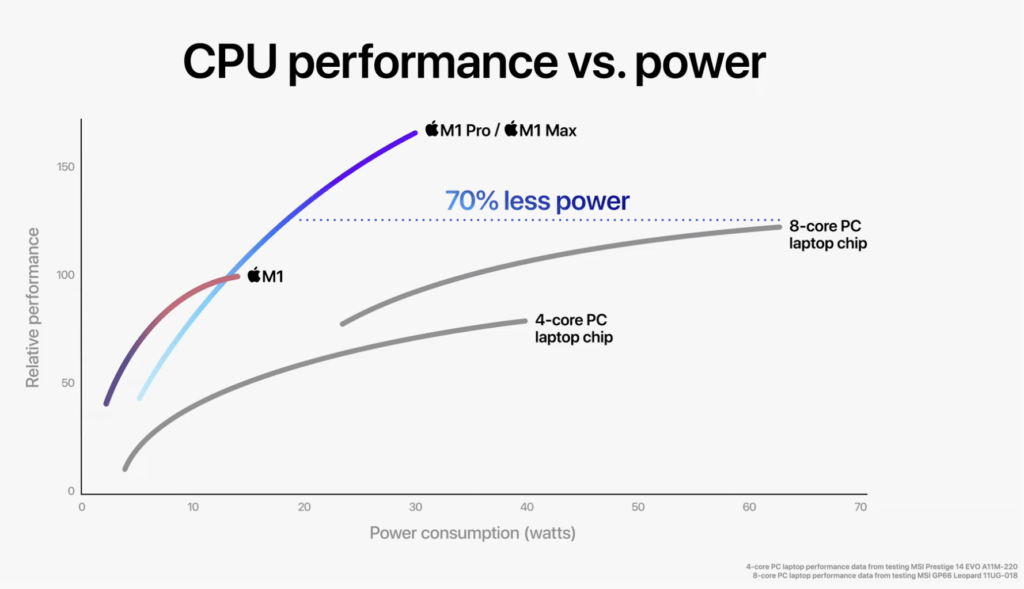 Now lets talk about M1 Pro GPU Performance as per Apple. As per previous data shared by Apple, M1 chip easily outperform the integrated GPU in PC laptop. Now when Apple compare it with M1 Pro, its give 7X performance. M1 Pro also consumes 70% less power at its peak than a PC laptop with a discrete GPU.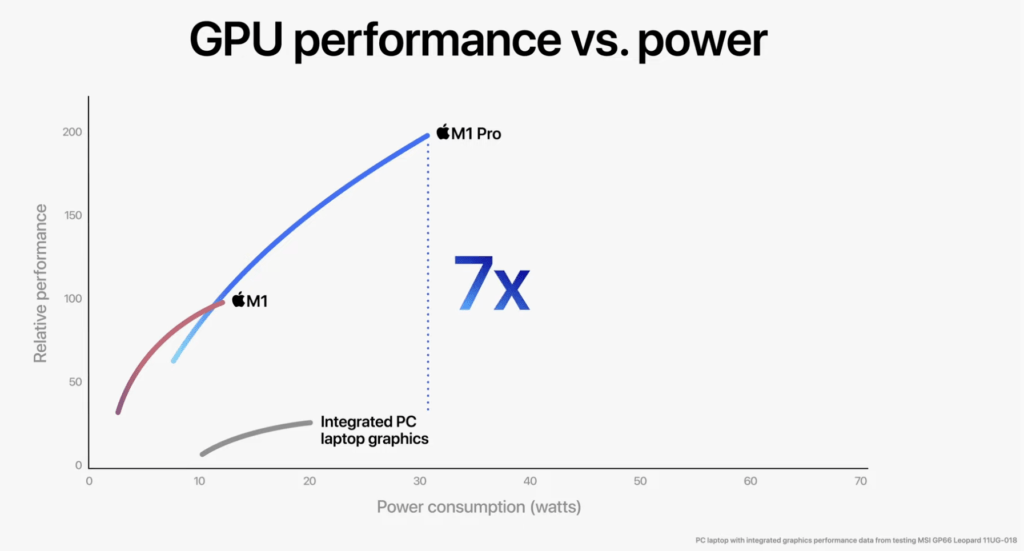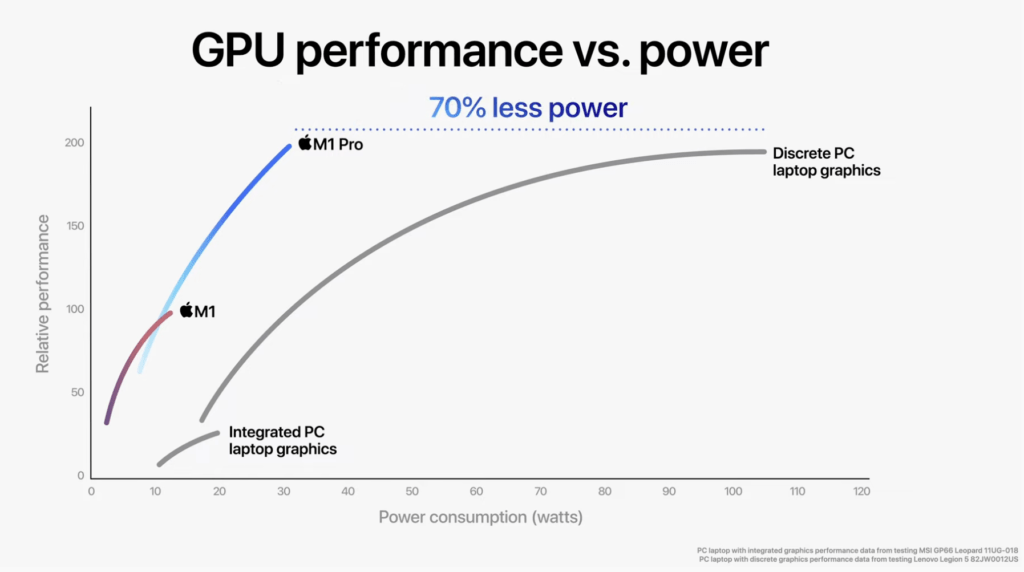 There are many compact laptops in market with powerful GPU. But as stated before, these dedicated GPUs are power hungry and hence consumes more power. As it consume more power, there is more heat generation and thus need bigger fans which generates heavy noise and results in less battery life. But talking about M1 Max, Apple claims that M1 Max provide better graphics performance at 40% less power as compared to compact Pro PC laptop graphics. Also it provide similar graphics performance to that of His-end PC laptop graphics but with 100W less power.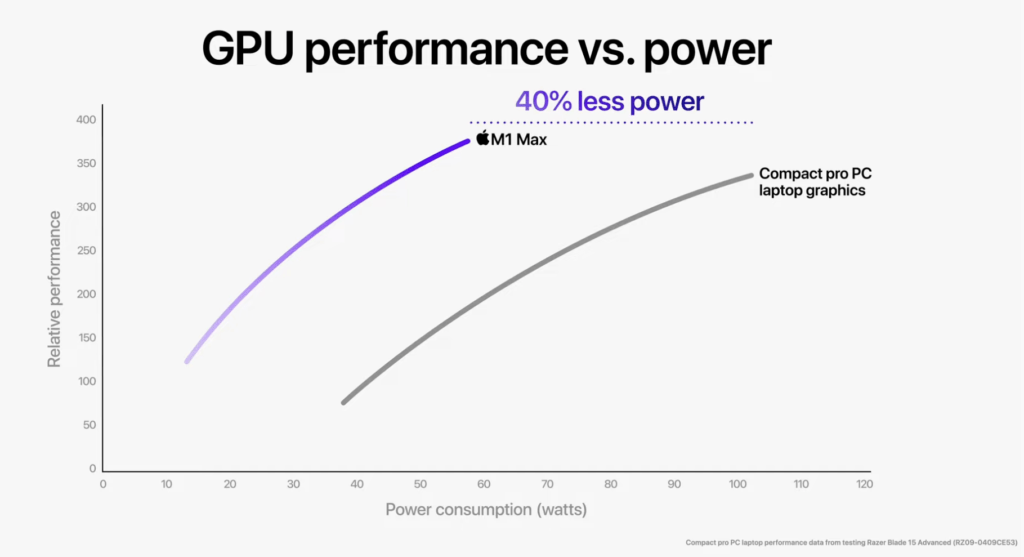 Apple claims that M1 Max is the world's most powerful chip ever built for Pro Laptops. So to summarise, M1 Max comes with upto 64 GB unified memory, 10 Core CPU, upto 32 core GPU, 400 GB/s memory bandwidth and double ProRes codec.
These announcements from Apple are very exciting and everyone is eager to get their hands on these new machines with most powerful pro Chips by Apple.
Do let us know what you think of these new Chips from Apple in comment section below. Till then, Stay healthy, Stay Safe, Jai Hind!
---