Apple April 2021 Event : AirTag, Spring edition Purple iPhone 12, New iPad Pro, New iMac, Apple TV 4K & more
---
So here we are with most awaited Apple Event in 2021. As guessed in our previous post, we have seen AirTag, Apple tv+, iMac & iPad Pro. Along with this we also got additional Spring specific Purple iPhone, updated Podcast & Apple Card. So lets check it out in more details on Apple April 2021 Event : AirTag, Spring edition Purple iPhone 12, New iPad Pro, New iMac, Apple TV 4K & more.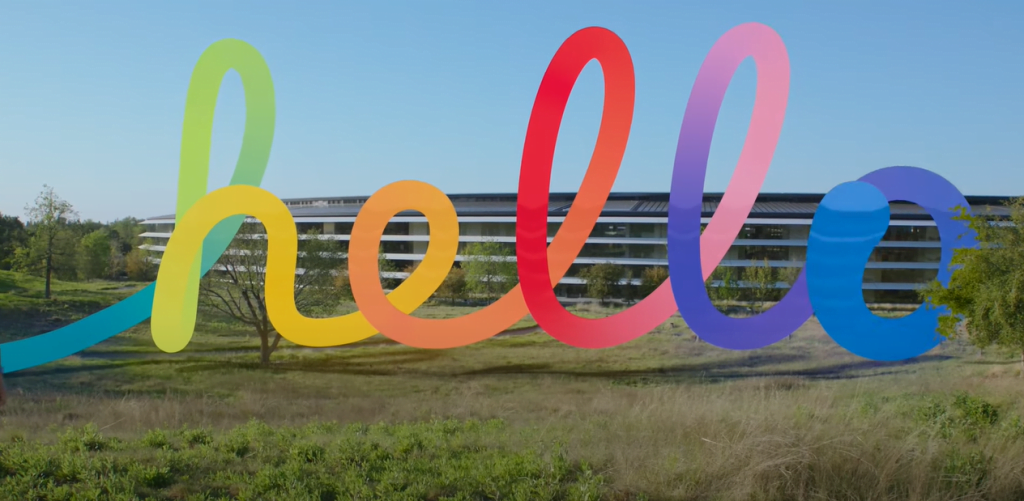 Apple Environment Initiative updates
On Earth Day i.e. 20th April, Tim Cook announced that Apple is carbon neutral for their global corporate operations with all of their offices, stores & datacenters running on 100% renewable energy. By 2030, Apple will be 100% carbon neutral across their entire end-to-end footprint including our supply chain and the use of Apple products. This month Apple launched the restore fund in partnership with conservation international at Goldman Sachs. This pioneering new investment fund will provide returns that are measured not only financially but by the tons of atmospheric carbon removed by each investment. Apple's goal is to remove more than 1 million tons of carbon every year.
Apple Card
Tim Cook mentioned that with Apple card, they are set out to completely reinvent the credit card and enable people to live healthier financial live. Apple think that the current way of calculation of Credit Score is not perfect as some get benefits of it while some are not. With Apple card, now partners or spouses can share & merge their credit lines, have equal rights on their account and build credit score equally. Also Apple card have new feature called as Apple Card Family, where in Apple Card can now be used by anyone above age 13 in a family with optional spending limits and controls for kids.
Apple Podcasts
15 years ago Apple Podcast was first launched via iTunes. Below pic shows how it looks like.
When it was started there were around 3000 shows in directory & today there are millions to choose from. Now there is change to the Apple Podcast App first time in these many years. Every Show and episode now have dedicated page with more information. Also they have added Channels to podcasts to get your favorite shows with recommendations. Now there is Podcast subscription for ad free listening & early access to new shows. This subscription will be launched next month in more than 170 countries.
Also Read

Experience M1 Macs in Cloud with Scaleway
New Spring Edition iPhone 12
Since launch of iPhone 12 in 2020, its one of the most popular iPhone worldwide. Its features list goes like Super Retina XDR Display with Ceramic Shield coating, incredible camera system, 5G Support, 4K HDR Video recording with Dolby Vision and much more.
With April-2021 Spring, Apple now unveiled new Purple Color iPhone. It can be pre-orders starting this Friday and will be available starting April 30.
Apple AirTag
This is most rumored and awaited product you can say from Apple. This was first rumored almost 2 years back. And now in 2021 its actually here. It used Apple's Find My network, so iPhone can keep track of it and find your stuff. You can personalize AirTag to make it your own like use of emojis. Also AirTag comes with multiple accessories like keychain holder, backpack holder and more.
AirTag uses Precision finding with the help of Find My Network, improved iPhone chip, accelerometer & gyroscope, giving real-time direction and distance between your object and iPhone. And as always, at Apple, no compromise with your Privacy. With Find My Network everyone can participate without sharing their location to anyone. AirTag is designed to track items and not people. Hence it include safety features like unwanted tag detection, rotating identifiers and audible alerts. It is also IP67 certified thus making it water and dust resistant. Battery life offered by AirTag is over a year & it comes with user replaceable battery. AirTag starts at ₹3190/- for single unit and ₹10900/- for pack of 4. It can be pre-orders starting this Friday and will be available starting April 30.
Apple TV 4K
Apple TV bring you the very best cinematic experience, giving access to worlds leading video services. Apple TV is built on same apple Silicon and its deep integration with Apple Hardware, Software and Services makes it unique. Apple TV 4K is built with A12 bionic chip, with massive upgrade in performance & allowing to play HDR in high frame rate. Airplay is also enhanced to play videos in high frame HDR. With new Color Balance feature, Apple TV can now work with iPhone or iPad & its advance sensor chip to improve picture quality. With this Apple TV now offer more accurate colors without adjusting TV.
With all improved Siri remote, with new round pad like iPod, the new Apple TV Remote brings together speed, fluidity and precise control with a touch-enabled click pad. A circular gesture on the outer ring to fast-forward or rewind allows to find just the scene you're looking for.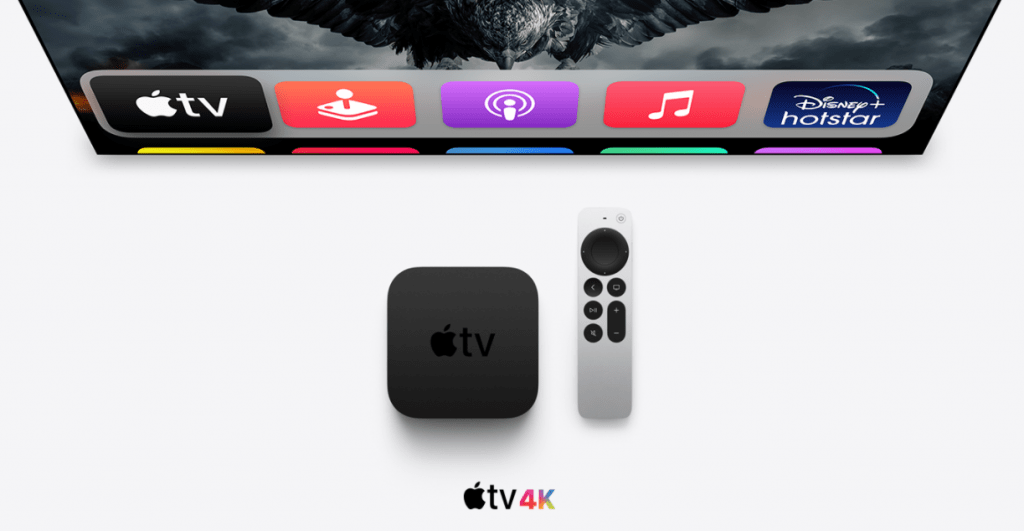 The 32 GB variant of Apple TV is available at ₹18900/- & 64 GB variant at ₹20900/-. You can order then on April 30 & it will be available in second half of May.
iMac
All new designed iMac just looks like iPad on Stand, really! Powered by the same M1 chip which has already proved its metal with previous Macs, the iMac is available in seven colors.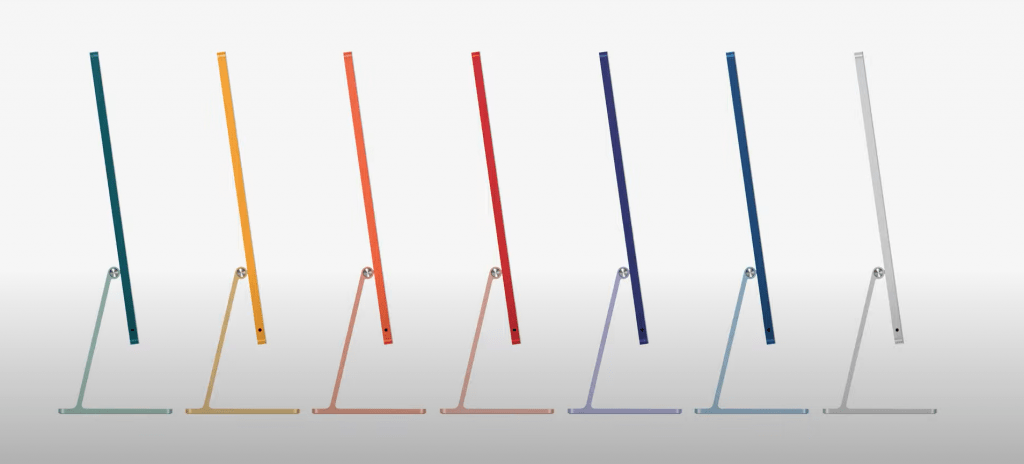 With use of System On Chip architecture, M1 chip has made it possible to reduce the form factor of the iMac to just 11.5mm thin and use of two small fans to keep system cool.
The new iMac offers improved 24″ 4.5K Retina display with 11.3 million pixels & 4480 x 2520 resolution. It offers 500 nits of brightness. It now host improved 1080p FaceTime HD Camera which works with M1's ISP (Image Signal Processing) to further enhanced image quality & video. To complement the camera, iMac comes with Studio quality 3 mic array which is engineered to reduce external audio to feel sound more natural.
The sound system on iMac brings incredible, room-filling audio to any space. Two pairs of force-cancelling woofers create rich, deep bass without unwanted vibrations. And each pair is balanced with a high-performance tweeter. The result is a massive, detailed soundstage that takes your movies, music and more to the next level. Thanks to the redesigned speakers and advanced algorithms, iMac now supports spatial audio when playing video with Dolby Atmos.
With M1 Chip and latest macOS Big Sur, iMac wakes from sleep almost instantly, apps launch in a flash and the whole system feels fluid, smooth and snappy. With up to 85% faster CPU performance and up to two times faster graphics performance than standard 21.5-inch iMac models, you can use apps like Xcode and Affinity Photo to compile code in a fraction of the time or edit photos in real time. And it runs cool and quiet even while tackling these intense workloads.
Not to miss, iMac uses all Apple ecosystem advantages, like AirDrop, Calls and Texts right at iMac, use of iPhone and iPad Apps on iMac & much more. The new iMac features a colour-matched keyboard, mouse and trackpad. Magic Keyboard now has keys for Spotlight, Dictation, Do Not Disturb and emoji. And for the first time, Touch ID comes to iMac. So you can easily and securely unlock your computer, download apps and more with just a finger.
Connectivity wise it comes with up to 4 USB-C Ports including 2 thunderbolt ports. It comes with all new power connector that easily attaches via magnets and have color matched woven cable. And to our surprise, ethernet port is not on iMac now, its moved to power adaptor to keep your desk clean and clutter free.
So this is all new iMac.
Its available in three options, as shown below, starting at ₹119900/- & going up-to ₹159900/-. You can Order it from April 30 & it will be available in second half of May.
iPad Pro
The new iPad Pro also now powered by the Apple M1 Chip, wow! With M1, iPad Pro is the fastest device of its kind. It's designed to take full advantage of next‑level performance and custom technologies like the advanced image signal processor and unified memory architecture of M1. And with the incredible power efficiency of M1, iPad Pro is still thin and light with all‑day battery life, making it as portable as it is powerful.
The 8‑core CPU of M1 delivers up to 50% faster performance. And M1 has an 8‑core GPU in a class of its own, delivering up to 40% faster graphics performance to iPad Pro. So you can build intricate AR models, play games with console‑quality graphics at high frame rates and more.
Talking about its display, it comes with 12.9″ Liquid Retina XDR display. The Liquid Retina XDR display delivers true-to-life detail with a 10,00,000:1 contrast ratio, great for viewing and editing HDR photos and videos or enjoying your favorite movies and TV shows. It also features a breathtaking 1,000 nits of full‑screen brightness and 1,600 nits of peak brightness. And advanced display technologies like P3 wide color, True Tone and ProMotion. To achieve extremely high brightness, Apple used an array of LEDs across the entire back of the display. To fit them in the incredibly thin iPad Pro, they used custom‑designed mini‑LEDs that are 120 times smaller than the previous generation. And custom optical films and diffusers mix the light more efficiently so it can fit in a design that's just 6.4 mm thin. Over 10,000 mini‑LEDs are grouped into more than 2,500 local dimming zones. Depending on the content, the brightness in each zone can be precisely adjusted to achieve an astonishing 10,000,00:1 contrast ratio. Even the most detailed HDR content with the finest specular highlights. Liquid Retina display also features incredibly advanced technologies like ProMotion, True Tone, P3 wide colour and ultra-low reflectivity, which make everything feel responsive and look stunning.
iPad Pro features a new Ultra Wide camera with a 12MP sensor and a 122‑degree field of view, making it perfect for FaceTime and the new Centre Stage feature. It's also great for epic Portrait mode selfies. And it works with the TrueDepth camera to securely unlock iPad Pro with Face ID. The Center stage uses Ultra Wide camera and machine learning to change the way you participate in video calls. As you move around, it automatically pans to keep you centered in the frame. When others join in or leave the call, the view expands or zooms in. Centre Stage works with FaceTime and other video conferencing apps for an even more engaging experience. Four speaker audio on iPad Pro delivers theatre‑like sound and support for Dolby Atmos.
Not to mention, the magic keyboard and Apple Pencil works seamlessly with the iPad Pro, so that you can unleash your imagination and get the extraordinary work done. Also iPad Pro is now available in new White colour as well along with matching magic keyboard.
All new iPad Pro can be ordered from April 30 & available in second half of May. It start at ₹71900/- and have multiple options to choose from like,
12.9″ or 11″ display
Space Gray or Silver Color
128GB or 256 GB or 512 GB or 1TB or 2TB storage
Wi-Fi only or Wi-Fi and Cellular connectivity option
Summary
So the first Apple event in 2021 was exiting with new launches, but majority it was all M1 focused event. All new products like iMac & iPad Pro now comes with M1 chip. This is the direction which Tim Cook mentioned in WWDC-2020 about switching all to Apple Silicon in 2 year transition plan. We have seen most of rumours coming true i.e. AirTag, Mini LED display & all new iMac. This has increased the excitements around upcoming MacBooks which are also rumours to come with mini LED display and improved design. Not to miss improved M1X chip as well. So stay tuned for further updates!
Till new iMac and iPad Pro with M1 chip is available, you can experience M1 with MacBook Air & MacBook Pro.
M1 MacBook Air
M1 MacBook Pro
---